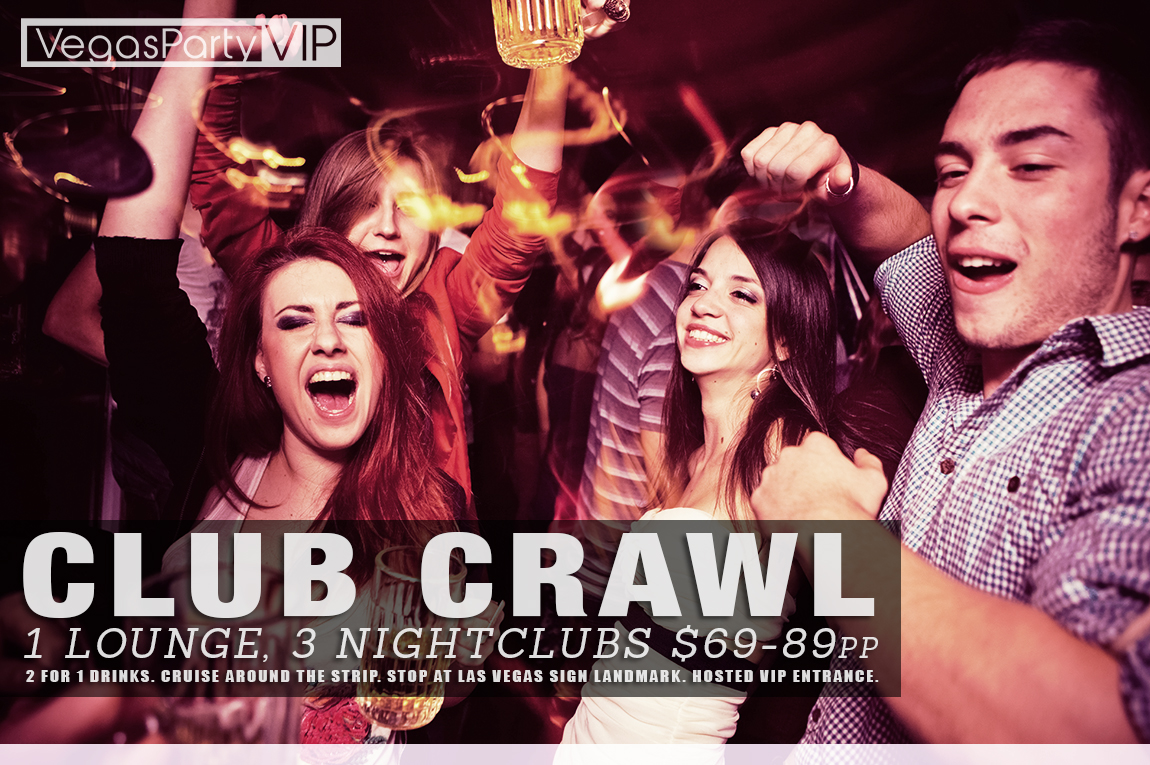 Club Crawl Las Vegas
Check out our variety of Las Vegas Club Crawl options. 3 Different Nightclub Crawl options & 2 Pool Party Crawl options
Looking for a great night out in Las Vegas without breaking the bank? Club Crawls are a great way to experience multiple Vegas nightclubs, lounges & other party venues without having to hassle with door lines, security guards, cab drivers, or other troubles that can slow down the FUN on a night on the town.
Below are a few of our Las Vegas Club Crawl options. Each one is a little different, but ALL of them are fun!
---
VIP CLUB CRAWL – $89 per person

VIP CLUB CRAWL – $89 per person

4-Stop Club Hop is our #1 best-selling tour and the definitive Las Vegas experience!

Our intoxicating Club Crawl tour will take you to ONE (1) ultra-lounge and THREE (3) top-rated nightclubs in the world, located on the Las Vegas Strip. Enjoy hassle-free, complimentary access to the top nightclubs, luxury transportation with a dedicated experiences Nightlife Host to guide you throughout the evening. Start at an exclusive ultra-lounge where you will meet your host and enjoy drink specials. From there your host will walk you to the party bus dubbed the "Night Club on Wheels," with adult beverages and be transported to THREE (3) more of the hottest Las Vegas nightclubs.

-Duration: 4-5 hours.
-Guests must check-in at the starting location by 9-9:30pm.

Experience ONE (1) Ultra-Lounge and THREE (3) of Vegas' hottest Nightclubs
Buy1, Get1 drink specials at starting location
Transportation on our luxury party bus between THREE (3) clubs with beverages on the bus
Expedited entry and no cover charges at each venue
Dedicated, experienced nightlife hosts to escort you into each nightclub

---

Sample Schedule:

Thursdays
– PBR Rock Bar @ Miracle Mile Shoppes 
– OMNIA @ Caesar's Palace
– DRAI'S @ Cromwell
– HAKKASAN @ MGM Grand

Fridays
– PBR Rock Bar @ Miracle Mile Shoppes
– JEWEL @ Aria
– HAKKASAN @ MGM Grand
– CHATEAU @ The Paris

Saturdays
– PBR Rock Bar @ Miracle Mile Shoppes
– HAKKASAN @ MGM Grand
– OMNIA @ Caesar's Palace
– JEWEL @ Aria

(Venues Subject to Change, ask your Host for current schedule)

DAYCLUB CRAWL – $89 per person

DAYCLUB CRAWL  – $89

During the warmer months our Dayclub Crawl is one of the best sellers!

-3 Las Vegas Pool Parties (Covers included)
-2 Party bus rides with complimentary drinks
-1 Awesome Day in Vegas!

Friday, Saturday & Sundays (April – Oct)
-Duration: 5 hours + (Guests may stay at dayclub until close).
-Guests must check-in at the starting location by 12am.

Visit amazing Pool Party venues like:
Bare, Wet Republic, Drai's Beach Club, Daylight, Rehab, Sapphire Pool, Tao Beach & more

The Las Vegas Dayclub Pool Crawl includes:

11:30 am
Meet and Greet at the 1st Pool, Bare Pool located at Mirage.
12:00 pm
Board our Party Bus and take a cruise in the air conditioned comforts and refresh with Vodka Cranberry, Vodka Lemonade, Rum Punch, Rum & Coke, Tequila Mango Margaritas, Bud Light, and Water
12:30 pm
Arrive at 2nd Pool
1:30 pm
Board our Party Bus and take a cruise in the air conditioned comforts and refresh with Vodka Cranberry, Vodka Lemonade, Rum Punch, Rum & Coke, Tequila Mango Margaritas, Bud Light, and Water
2:00 pm
Arrive at 3rd Pool

______________________________
Tour Includes:

Valid Friday or Saturday
Complimentary Vodka Cranberry, Vodka Lemonade, Rum Punch, Rum & Coke, Tequila Mango Shots, Bud Light, and Water on the Party Bus
VIP Hosted Entry
2 Different Pools
2 Party Bus Booze Cruises
All Cover Charges Included

Tour Excludes:

Host and Driver Gratuity is not included. Vegas industry standard is 20% of your total bill or a minimum of $10 per guest in your party.
Guests are responsible for meeting at check in and getting back to their hotel at the end of the tour
Drinks inside the venues are not included

Venues we visit:
Daylight Beach
Drais Beach
Sapphires Pool
Rehab
Palms Pool
Wet Republic
Bare Pool

ALL VENUES ARE SUBJECT TO CHANGE

TIMES ARE TENTATIVELY SCHEDULED AND MAY VARY DEPENDING ON THE DAY.

**Holiday Weekends:
Memorial Day/ 4th of July Weekend/ Labor Day Weekend tours sales are blacked out until 2 weeks before the tour to confirm availability.
---
Cancellations / Terms

Cancellations / Terms

All sales are final
Club Crawl does not issue refunds for the following:

1. Venue Changes
2. Time Changes
3. Postponed or Rescheduled Experiences
4. Partial Experiences

No refunds will be granted on sales unless your experience was cancelled and not rescheduled by us for a later date. We will notify you, via the email provided, that the experience was cancelled.

Cancellation, Transfer & Credit Policy: If you are unable to attend the experience purchased, you may:
1. Cancel your attendance 14 days prior to the ticketed date by calling your VIP Host for a full refund.
a. Between 14 days and 6 days of tour date, 'Club Crawl' will offer a credit for another time;
2. Under 6 days prior to the experience, client will forfeit sale and no credit or refund is due.
Proper dress code is required to enter the clubs.
Must be 21 years or older and have a valid US Drivers License or Passport for ID
If you do not obey all rules on the tour and are asked to leave by your host you will not be given a refund of any kind

General Inclusions

General Inclusions
Experiences include the following:

A quality experience of a lifetime!
Club Crawl Wristband – must be worn at all times
Fully guided experience by a seasoned nightlife host
Dedicated line into Vegas' hottest nightclubs – we pride ourselves with expedited entry into venues. Average wait time is 7 minutes.
Paid Cover Charge
Transportation and great times in our luxury limo party bus, a.k.a. our "Night Club on Wheels."
Includes Complimentary Spirits, Beer, Water while en route to your next party venue. Participation is heavily encouraged as we dance to the music, lights, videos and take a spin on the Stripper Pole!

Exclusions

Exclusions
Experiences exclude the following:

Transfers to and from starting and ending locations except the Champagne City Tour of Las Vegas
Immediate Entry into Night Club – we have 1st priority and a dedicated party line.
Assigned Seating on Party Bus
Reserved Tables at Venues
Venue Seating
Bottle Service at Venues
Complimentary drinks in Venues
Host Gratuity (20% of experience cost is recommended)

ADDITIONAL INFO
Club Crawl is not responsible for partial Experiences due to venue availability, date or time changes. If a venue decides to close its doors for the evening prior to our arrival, keep our guests waiting or we deem the guest experience will be compromised, every effort will be made to reroute to an alternate venue.

Dress Code

DRESS CODE
Strictly enforced:
Upscale fashionable attire. Suits, collared dress shirts, slacks, dressy jeans, sports coats or blazers. Hats, sandals, sneakers, hard soled shoes and boots, ripped or excessively baggy clothing and athletic wear are not permitted. Dress shoes must be worn.

Women are encouraged to wear comfortable high heels, wedges or heeled boots with dresses, skirts and blouses. We suggest bringing a pair of roll up flats to switch into, but you are required to wear your dress shoes into each club.  **There is walking, please be prepared.

Prohibited Attire:
No athletic wear (sweatpants, jerseys, athletic/basketball style shorts, etc)
No oversized, baggy or saggy attire
No Flip Flops, Sandals, beach/pool style footwear

Prohibited Items:
Weapons
Medications
Illegal substances
Outside food & drink
Glass
Luggage
Backpacks
Oversized Purses & Bags
Baseball hats or hats with symbols
**All bags are subject to search. A bag check is available for oversized purses & bags

Disclosures

Disclosures:
1. Nightclubs and ultra-lounges are subject to change periodically.
2. Music selection at nightclubs and ultra-lounges varies and is at the sole discretion of the venue.
3. Music on the Party Bus is predetermined
4. Club Crawl provides experiences that are specifically designed to interact with many individuals and groups of guests. Unless you have purchased a private tour, you will share the purchased experience with others. You tour will be led by an experienced nightlife host. Groups are intimate typically between 15 & 35 guests.
5. It is your responsibility to stay with your group to gain admittance into venues. If you are over 5 minutes late, the tour will continue on without you.
6. On any given night, Club Crawl will have multiple "groups" that are each assigned to a nightlife host.
7. Spirits, beer and champagne on the Party Bus are available complimentary and the selection is subject to change.
8. There will be a $500 "cleaning fee" charged to your group for any illness or sickness that might occur on the party bus.
9. Club Crawl reserves the right to refuse service at our discretion.
10. Club Crawl & Vegas Party VIP are not responsible if you are denied entrance to any nightclub due to lack of proper identification, inappropriate clothing, intoxication or poor conduct.
---