See the Grand Canyon in style
Want to see the world from a different angle?
Do you really want something to brag about when you return home after your Vegas vacation?
A VIP Las Vegas Helicopter Tour gives you the bragging rights you've been looking for! While so many people a okay with seeing Las Vegas Strip and Southern Nevada from one angle, you don't want the typical Sin City experience. And you'll be able to move away from "typical" with our Grand Canyon Helicopter Tour.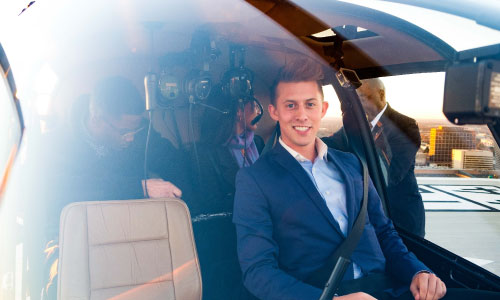 No matter what sights you see, a Helicopter Tour is an adrenaline-fueled sightseeing experience sure to burn itself into your memory. That this tour offers views of Las Vegas only amplifies how impactful it will be. So many people pile into a tour bus or pack into a car to see the Grand Canyon. Book this tour and you'll be seeing it in style!
From the moment you step foot on your luxury whirlybird and the blades star whirring, your heart will start to race. It's an excitement unlike any other, even surpassing the thrill of Vegas' nightlife. When you take flight, you'll fix focused on what's outside of your chopper and will immediately forget any of your worries. The views are spectacular no matter where you're looking!
You could easily enjoy the initial sightseeing your Helicopter Tour offers and feel like you got your money's worth, but there's so much more to see. Scope out the expansive deserts of Nevada, marvel at just how small the world looks, and enjoy views of the rocky formations surrounding Lake Mead and how the manmade Hoover Dam juts out of the state's natural formations. Guests will also fly over the Valley of Fire, where the red of the rocky landscape is as bright as ever beneath the midday sun.
The star attraction is the Grand Canyon, something many only see through the small porthole on their airplane. Even from afar, it's quite a view, so imagine how it must look as you're hovering above it, gazing out upon its beauty from your tour helicopter. It's something everyone can and will enjoy. It's an entirely different experience than standing near the edge of one of the directional rims and looking out at its expansive size. From your helicopter, you'll be able to see so much more.
The VIP Helicopter Tour tour with views of the Grand Canyon is a breathtaking experience, perfect for any Las Vegas event. Birthday parties, bachelor groups, bachelorette excursions – they can all benefit from a Helicopter Tour that takes you high above the Nevadan landscape. Since you'll take off when the sun is bright and shining over the 1,902 sq. mile canyon, your Helicopter Tour still leaves plenty of time to enjoy some of Vegas' memorable activities on the ground.
All throughout your evening, though, don't be surprised if you find yourself talking about your aerial tour of the Grand Canyon.
A Grand Canyon Helicopter Tour comes with a ride in a comfortable chopper, outfitted with windows large enough for everyone to see the sights. See Southern Nevada as a VIP with a tour that opens up the desert landscapes in front of you. View the iconic locations and memorable natural formations that make the Las Vegas Valley and beyond such a hotspot for tourism.
Start your day with a VIP flight over Southern Nevada and the Grand Canyon with a VIP helicopter tour to remember.
Contact a  VIP Host today to see when you can fly high over the Grand Canyon!