Have you ever wanted to feel the power of a gun going off? That burst of adrenaline when you pull the trigger and the excitement that follows as your target shakes on impact. It's a thrill, much like a roller coaster or any of the Strat's daredevil rides. During your time in Vegas, you'll have the opportunity to pick up real guns and fire off round after round in the largest indoor shooting facility in Las Vegas.
A Las Vegas gun range is your go-to source for the ultimate shooting adventure. An expansive facility includes a selection of lanes, so you'll have the space to take aim and let your frustrations out. Looking for the most exclusive shooting range experience? You'll find it on the VIP range, where additional lanes provide a more private setting. There is no wrong place to be as you'll be focused on the cold steel between your fingers.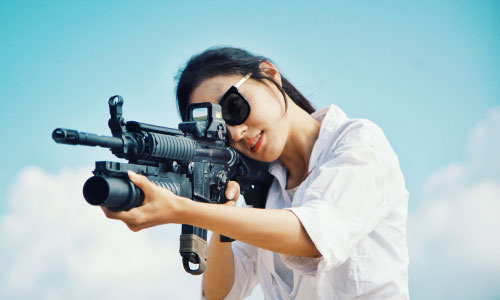 Want to enjoy the cooler air of a Las Vegas winter? You can take your party to the outdoor range for a more comfortable shooting experience. It doesn't gets too cold to shoot outside often, so the open-air desert range is a great alternative if you want to enjoy the weather and don't want to be stuck inside. Even if the cold air isn't your thing, maybe exploding targets are! Why fire on stationary targets that don't react to your well-aimed shots when you can be treated to a satisfying explosion?
During the summer months, when it's way too hot to concentrate on your aim, you can take your experience indoors into an air-conditioned facility. Who would have thought a shooting range would be the perfect way to avoid the desert heat?
Regardless of it's your first time or your 10th time at a firing range, you'll undergo a brief but thorough training session before taking to the lanes with the firearm of your choice. Feeling ambitious? See how you can handle the high-powered M-16 or the more compact MP5. The full line of guns to choose from also includes handguns, if you want to start out small.
We offer a range of explosive packages that puts the most powerful firepower in your hands. From outdoor packages that give you a shot at using light machine guns to indoor fun with weapons better suited for close-quarters, there is no shortage of options when choosing the shooting range package that works for you.
Seasoned and amateur shooters will be able to enjoy a day of firing off round after round, letting out those aggressions on stationary or exploding targets. With the option for an outdoor or indoor setting, you can book the gun range experience you have always wanted. It's the perfect activity for a bachelor party. The adrenaline rush you get from firing a gun, whether it's a handgun or an MP5, is exactly what helps keep you energized throughout the rest of your day in Vegas.
Start your day with a bang with some time at a shooting range.
Range Policies:
Alcohol and drugs are strictly prohibited. Any guest believed to be under the influence of either will be refused use of the range
Pregnant women are prohibited from using the range
All participants must be mentally stable
Minors under 10-years-old cannot utilize the range
Guests under 18-years-old must be accompanied by a legal guardian or parent
All guests must provide valid/government-approved ID
Deposit require for reservation confirmation
All reservations are non-refundable. Deposits are fully transferable for up to one year from reservation date