Commonwealth
Over the past several years, the Fremont East District has become increasingly popular with locals and tourists alike. Commonwealth, which is located on the corner of Fremont and Sixth Street (525 Fremont St.), has played a major role in this development. Along with the District's forerunners, including the Downtown Cocktail Room and The Griffin, Commonwealth is one of the main attractions on this crowded and colorful stretch.
Commonwealth bills itself as the perfect mix of bar, clubhouse, dance club and cocktail lounge—and we're not going to argue with that description. Actually, we'll add to it: It also boasts amazing views of Fremont Street!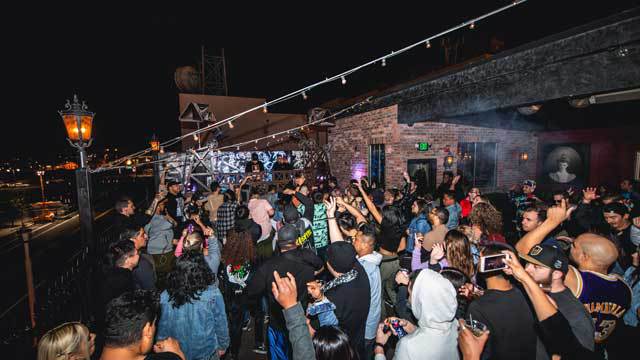 "Commonwealth's rooftop patio is worthy of a visit based on location alone," wrote Eater Vegas. "The trendy bar, which is poised at the epicenter of the Fremont East District, offers sweeping views of the Fremont Street Experience, the glowing pink El Cortez sign and the mountains in the distance. Those who frequent Downtown Las Vegas and prefer dancing to lounging will want to add Commonwealth's lively rooftop parties to their agenda."
A 6,000-square-foot, double-decker tavern with a rooftop and dance floor shouldn't feel this intimate.But Commonwealth is all about the details. crystal chandeliers contrast with the original brick walls, making it one of downtown Las Vegas' most stunning spaces.
If that isn't enough, Commonwealth also features an array of tasty—and interestingly named—craft cocktails. They include Pleasure Fist (light rum, black rum, fresh lime juice, orgeat and orange liqueur), Opium Den (bourbon, butterscotch maple syrup, Angostura and cinnamon stick) and Non-Consensual Puppet Karaoke (blanco tequila, fresh lime juice, ginger beer, Cassis, lime wheel and blackberries).
Open: Tuesday-Thursday from 9 p.m.-3 a.m., Friday-Saturday from 6 p.m.-3 a.m. and Sunday from 9 p.m.-3 a.m.
Cover: Subject to change based on capacity, but generally $20-$25 on weekends
Dress Code: Dressy casual. No flip flops, beach, pool or athletic attire. Heels and sandals are allowed if there is a heel strap.
Music: Tuesday hip-hop and R&B, Wednesday EDM, Thursday hip-hop and R&B, Friday and Saturday piano bar (6-9 p.m.)and DJs (9 p.m.-3 a.m.), Sunday EDM