Zouk Nightclub
Located in Resorts World Las Vegas, the newly debuted hotel-casino sitting on land formerly occupied by the legendary Stardust, Zouk Nightclub describes itself as a "boutique megaclub." It also uses the catchphrases "Anything but predictable" and "You've never experienced nightlife like this."
These are bold statements, indeed, but Zouk lives up to the hype. The facility spans more than 100,000 square feet in total and offers a variety of experiences, including a "street food hall," restaurant, gaming bar, karaoke lounge, nightclub(26,000 square feet; 2,160 capacity) and dayclub. It aspires to push musical boundaries and to be the most technologically advanced nightclub in Las Vegas.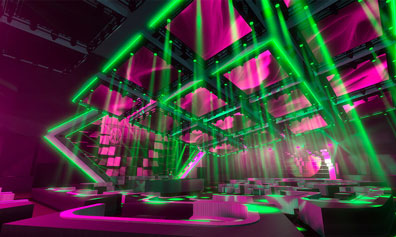 It shares a talented roster of resident musical artists with its sister club Ayu. These residents include Tiësto, Zedd, Becky G and Nic Fanciulli.
"Zouk Group continues to plant its flag as the pioneer in the nightlife industry, showcasing the best talent over the past 30 years at our venues, and the diverse music lineup at Resorts World Las Vegas is no exception," said Zouk Group CEO Andrew Li, before the club opened.
Zouk Las Vegas is an offshoot of Zouk Singapore, which, following its 1991 debut, established itself as a pioneer of dance music in Southeast Asia.
Open: Thursday-Saturday from 10 p.m.-4 a.m.
Cover: Generally around $40 for women and $60 for gentlemen. Holiday weekends and special guest performers are more expensive.
Dress Code: Upscale casual
Music: Mostly EDM, but it varies, depending on the headliner