7 Cool Things You Didn't Know You Could Do in Vegas
There some activities that are classic Las Vegas — gambling, taking in a show, fine dining, partying at a nightclub to name a few.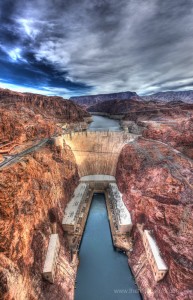 What you may not know, however, is that there are plenty of equally fun Las Vegas activities that too many people fail to add to their itinerary.
For that 'cherry-to-top' to your perfect vacation, take part in any of these 7 cool thing you didn't know you could do in Vegas!
Experience the Hoover Dam, Top to Bottom
The Hoover Dam lies just outside of Las Vegas and is one of the most spectacular man-made wonders in the world.
Take part in a tour of the dam to experience this architectural phenomenon first-hand. The best tours first take you along the top of the dam, where you are greeted with dramatic views of the Colorado River and Lake Mead — the largest man-made body of water in the Western Hemisphere. From there, tours take you down to the water for a guided river float, so you experience viewing the dam from below.
You will see plenty of jaw dropping things during your Las Vegas trip but this promises to be a particularly memorable one.
Desert Safari Hummer Tour
When you were booking your Vegas trip, you probably never considered that your itinerary could include navigating through the brutal Nevada desert in a hummer.
This adventurous tour guides you through the surrounding desert areas including features like deserted mines, Joshua Tress National Park and high-up desert peaks for picturesque views of the Las Vegas valley. Witness wildlife ranging from bighorn sheep to wild donkeys. All of this is from the safety and comfort of a rugged Hummer vehicle.
It may have not been the day you planned in Vegas but it is guaranteed to be one of your favorites of the whole trip.
This and more is available in a Las Vegas Desert Safari Hummer Tour.
Biplane Tour of Las Vegas
Ever dreamed of riding in one of those classic open-cockpit airplanes?
Well now you can on your next trip to Vegas. Witnessing Las Vegas & surrounding areas from the air is an experience you won't soon forget. Feel the air thru your hair in a real bi-plane! Throw in aerial views of Lake Mead, the Hoover Dam, Red Rock State Park, Boulder City and the Mojave Desert and this quickly turns into a trip of a lifetime.
Bike Tour of Red Rock Canyon
If anyone knows the best spots in Las Vegas, it's the locals. And among the city's full-time inhabitants, Red Rock Canyon is the place to play.
The recreation area is a haven for the city's bikers, hikers and rock climbers. With beautiful views,  & great trails to explore, Red Rock Canyon is a great way to get a little exercise during your stay. Experience the rugged scenery for yourself with a bike tour through the area. The fresh, open air and exercise will do you good after all your other Vegas indulgences.
Haunted Vegas Tour
While Las Vegas today is a fun place to party, the city does have some dark pockets in its past. Learn more about the sinister side of sin city on a Haunted Vegas Tour.
This tour takes you to spooky places like the "Motel of Death," where several celebrities have mysteriously died. Who knows, maybe you'll return home with a ghost story.
Fly an Airplane with The Top Gun Experience
Las Vegas is as good a place as any to try out flying a plane, right?
That's right, you can get a professional flying lesson and take the reigns of the most advanced aerobatic airplane in the world.
This and more is included in the Top Gun Experience flying tour, where you will experience what it's like to fly like an Air Force pilot.
Play in an Adult-Sized Sandbox
Unless you work construction, you will never have the opportunity to operate heavy machinery like a bulldozer and excavator.
If you ever played in a sandbox as a kid then you have, at some point, fantasized about what it would be like to dig a trench or move heavy materials with one of these awesome machines. Now you can!
Las Vegas is all about fulfilling fantasies so, of course, the city has a giant sandbox where you can play construction worker for a day and navigate real construction equipment.
If it weren't for the certification of completion that each participant receives at the end of the day, your friends would never believe you were lucky enough to be a kid again for a day.
We hope these 7 cool things you didn't know you could do in Vegas helped spice up your itinerary with fun activitities, and also inspired you to branch out on your next trip to the wonderful city of Las Vegas.
Photo credit: Camerons Personal Page via photopin cc