Bottle Service Packages (how they work)
How Does Bottle Service Packages Work?
Ah, bottle service (also known as table service) – one of man's greatest tributes to self -gratification. You have heard the terms "bottle service" and "table service" being thrown around in restaurants and nightclub scenes. But what do these terms really mean, and how do they affect your nightclub experience?
If you are looking for the ultimate VIP experience at one of Las Vegas' top nightclubs, then bottle service will be your best choice. Las Vegas is known for epic party experiences that obviously draws huge crowds and extremely packed nightclubs. Welcome to the good life. Drinking unreasonably high – priced alcohol brought to you by beautiful bottle girls. But there is a case to be made for VIP bottle service, even for those unwilling to spend huge amounts of money. In most cases, bottle service can actually be pretty well priced to standard clubbing, with a number of additional benefits.
So, What is Bottle Service?
You do not have to have bottle service to get into a club. But, in order to get the best real estate in the venue with your own private table for you and your friends, reserving bottle service is the way to go. Essentially, bottle service happens at tables in well-defined, elite, super VIP areas of nightclubs or lounges. These areas are usually roped off to the general public and are booked in advance. Most clubs here in Vegas have VIP tables arranged throughout the club.
The club's big money comes from alcohol sales. Huge profits are made on table service and liquor purchases at the club's bars. If you're not spending $500 for a bottle of vodka at a table, then you'll be at one of the club's bars paying a huge markup on drinks. Look at it this way – most drink prices start at around $15 and go up from there. As most guests don't have just one drink, you'll easily surpass what the club would've charged for a ticket in no time.
When you get bottle/table service at a club, you are paying the club a premium price for bottles, mixers, and table space (real estate). People that order bottle service packages usually order mixers which is standard across most clubs – cranberry, orange juice, tonic water, lines/lemons, etc. Energy drinks or bottled water usually cost extra (but that amount is counted towards your minimum). You will also be met with bottle service girls who will bring out the bottles, help you make drinks, pour shots, refill your mixers, remove empty glasses, etc.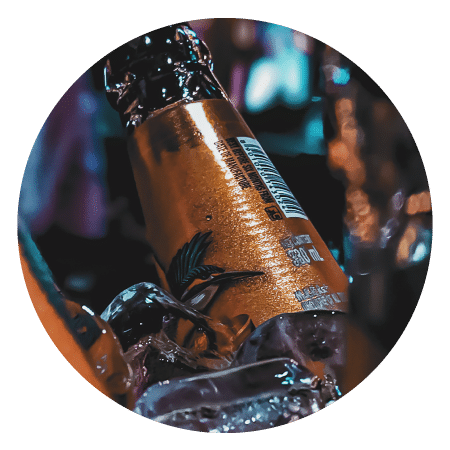 How Much Does Bottle Service Packages Cost?
Of course, all this exclusive treatment comes with a price. Often, a very steep price depending on the club or lounge.
Each bottle service packing (or table booking) has a minimum spend – that is, the amount you need to spend on alcohol. The minimum spent on each table varies based on a number of different factors:
Holidays

Day of the week – minimums are usually always higher on Fridays and Saturdays, depending on the club and/or the event.

The price does not include 8% tax and 20% gratuity.

The live performer or DJ performing.

Table location -the closer you are to the best spot in the club, the more you'll have to pay.

The number of people in your party – there are requirements to purchase one bottle for every 5 – 6 people in the group. For instance,

if you have 12 people in a group and want a VIP bottle service reservation, you can expect to purchase 2-3 bottles for the night at your table.

Each package has a subtotal which is equal to your minimum spend. This is the amount your group is required to spend on bottles, shots, beers, and drinks for the night at a table.
Bottle service is considered a luxury service in Las Vegas. The demand and popularity for groups of people wanting VIP bottle service continues to grow considerably over the past years. When figuring out your budget for bottle service packages, it's always easiest to connect with a club host.
What Clubs Are the Best for Bottle Service Packages?
This honestly comes down to what you and your friends enjoy, and this could be based on many different things. People find different experiences and likes in clubs which can be based on design, the comfort levels, the music, the waitresses, the hotels, and the crowds. This is what makes the Vegas VIP experience so fun. All of the major nightclubs in Vegas offer great bottle service experiences and you will always enjoy the benefits.
What Are the Benefits of Getting Bottle Service?
You get your own private table and space to enjoy the night. 

Feel free and more comfortable to dance and mingle without the big crowd, and you have the ability to sit as well.

Can meet new friends and invite them to party with you at your VIP table.

You have security, waitresses, and bussers that work just for you and the tables in your area. 

You don't have to go to the bar and wait in line for drinks.

You get expedited entry in a VIP bottle service line.

You get real estate – a place to sit and put your things.

Bottle service comes with alcohol and comped entry.

In Vegas, bachelorette parties can oftentimes get discounted or even comped tables on slow nights – ask us about it!.
How Do I Order Bottle Service Packages at A Club?
Getting bottle service isn't always as simple as it might sound. Getting bottle service is based on the relationship with the club. But the easiest way to get started is to directly check out our inventory of packages. Here at Vegas Party VIP you can set up a unique custom package and get a free quote
Important Tips to Remember:
Don't be afraid to ask for bottle service specials. When tipping hosts and those that help you with your bottle service, you can be eligible for better deals.

Tell your waitress that one person is in control of the ordering. 

The more you're willing to spend on bottle service, the better the table location in the club you will get.

Don't wait until the last minute to make your bottle service reservation. If you wait too long, the venue may sell out. 
Bottle service is definitely an acquired taste, so to say. Sometimes it makes more financial sense to go up to the bar and buy drinks and shots as you go. Alternatively, if you have a big group of people who are willing to pitch in to the night's festivities, at least you can use the minimum spend amount as a baseline for who will owe what at the end of the night. Keep in mind though, that minimum spends don't include tax and tip!
Whether you're coming for a Las Vegas birthday party, Las Vegas bachelor party, Las Vegas bachelorette party or if you're a Las Vegas VIP, we can help you get unique packages and deals for your Vegas experience. Contact us today!