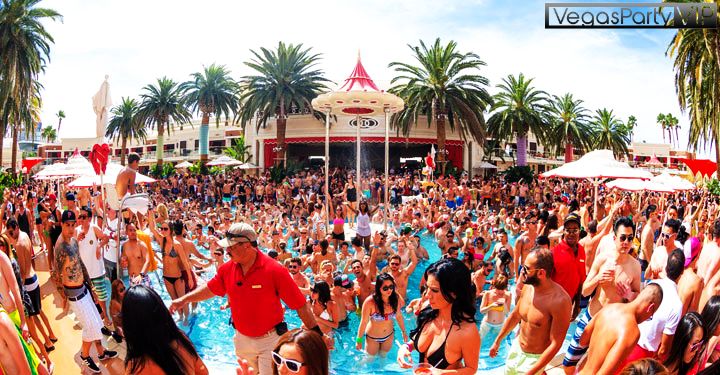 On the hunt for things to do in Las Vegas? Well, pool season is underway, and things are heating up like never before. The biggest names in music will be gracing the stages and packing the best pools in Las Vegas this summer. Nothing screams Summertime like carefree living, and popping bottles poolside. The hottest DJs, sexiest cocktail servers, bartenders, and go-go dancers make Las Vegas pool parties unlike anything you have ever experienced.
Things You Should Know
No matter what your budget is, there is a Vegas pool party experience perfect for you and your friends. The line wait times, cover charges, liquor prices, and cabana rates vary from pool to pool. Entry into most clubs with a large group of guys is usually a recipe for a long wait and higher cover charges. As a rule of thumb, groups with higher women to men ratios are always more beneficial. Entry prices and difficulty can change based on the DJ's performing that day, and even the day of the week you decide to party.
Fridays and Sundays are generally a little bit cheaper, and often times a little less busy. Saturdays are always off the chain with big name DJs, but that can also lead to higher cover charges, cabana rates, and longer wait times.
Fees, Charges, And Other Key Things To Consider
Plan your trip accordingly with these simple seating rules: daybeds are great for 6-8 people, couches 6-10, cabana 12-18, and bungalows are great for large parties of 25 or more. Cover charges vary by location and time, too. At Encore Beach Club for example – one of the most beautifully designed and prestigious day pool parties in Vegas – visitor cover charges range from $30 for women up to $150 for men, and are always subject to change. Entry-level table rates start at $1,000 and increase in price as the size of your party increases.
Also, remember – for every 5 people in your party, you will need to purchase at least one bottle. Bottle rates start at around $600, and increase in price depending on the quality and size of the bottle. That might seem pricey, but remember – you'll often be enjoying those drinks while world-renowned DJs like David Guetta, RL Grime, The Chainsmokers, Marshmello, Dillon Francis, Major Lazer, and Diplo keep the vibe going.
Other Options Worth Considering
On the other hand, clubs like Rehab at The Hard Rock, with their sprawling paradise beach layout, can be a little friendlier on the bank account. Cover charges range from $10 for women up to $40 for men, and are subject to change. Cabana rates start at $500 and can reach upwards of $6,000, including gratuity and taxes. Prices also subject to change based on availability, day of the week, and if you want to party on a holiday weekend.
Daybeds and lounge chairs are also available, if that is more your speed, and are perfect for bellying up to the poker table. Bass, bikinis, booze, and bungalows are always great things to do in Las Vegas during the day when you're listening to the sounds of Wale, Flo Rida, DJ Five, and Cedric Gervais.
Figure out what the best pool party experience will be for you. Do you want guest list entry so you can avoid long lines, or does booking ahead and buying tickets make more sense? Are you a cabana kind of person, or more of a daybed person? Whatever floats your boat, Vegas Party VIP can make it happen. Call and book your birthday, bachelor, or bachelorette party today!