Omnia Bottle Service, Guest List and Dress Code Info
By: Jeremy Crudup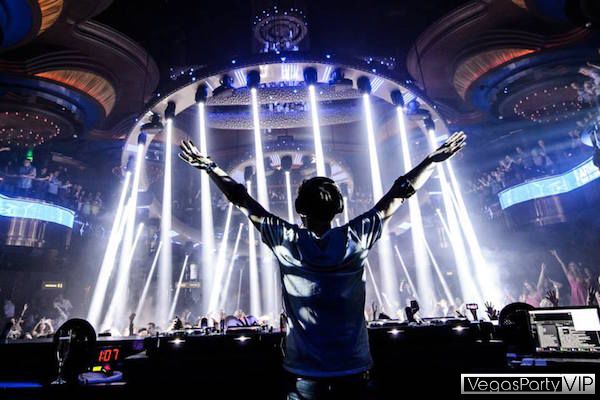 Every year there's a new nightclub in Vegas & this year its the brand new Omnia Nightclub at Caesar's Palace. Previously PURE Nightclub, this completely remodeled property will blow you away! This blog post is designed to inform you about ticket prices (or Cover Charge), how to get on a VIP Guest List, what typical dress code is at Omnia, how to book the best tables, and a few photos to give you some visuals of the club.
Omnia Cover Charge
Omnia Nightclub is the newest club in town, but cover charges are surprisingly reasonable compares to some other big clubs. Cover charge can vary from night to night depending on the big name DJ that is performing that night. Big name DJs at Omnia include: Afrojack, Calvin Harris, Armin Van Buuren, Chuckie, Martin Garrix, Nervo, Krewella, Showtek & others.
Guys cover charge is typically $30-$60, and $100+ on special event nights. Ladies are usually $20-$40, and 60+ on special event nights. Make sure you contact one of our VIP Hosts to get the latest DJ lineup & help you bypass the long lines.
Omnia Guest List
Omnia Guest List varies based on the time of year. Typically free Guest List entry requires even ratio of guys-to-girls. Certain nights the girls will get in free on the guest list, with gentleman receiving reduced cover (usually 10-20 off regular cover). Ideally, this is best for mostly-Girl groups. You MUST check in by midnight on a Guest list, so get there early. This means waiting in a Guest List line.
Omnia Dress Code
With Omnia being a top Las Vegas nightclub, expect to dress your best. A good rule of thumb is Business Casual. Wear what you would to a job interview or Prom lol. Remember, it's Vegas! Dress it up a bit! A collared shirt, nice jeans or slacks & nice pair of dress shoes is a good starting point. As for items of clothing not allowed: No sneakers/Jordans etc (dress shoes suggested), no jerseys, no hats (some fashionable hats are allowed, like fedoras). Check out our Dress Code Tips for additional info.
Omnia Bottle Service
Every club in Las Vegas has bottle service, but few do it like Omnia. This venue is incredibly well designed. There isn't a bad table in the whole club. The booths are well designed with good views & couches.
There are 3 different rooms to explore, all with a different vibe & DJ. The Main Room consists of two levels, including some interesting tables behind the DJ. The Heart of Omnia is the open format/HipHop room, and the open-air Patio Terrace has some of the best views of any nightclub in Vegas! The closer you are to the DJ/Main Room, the higher the table cost.
Bottle prices start at $595 per bottle for a standard 1L bottle, quickly jump to over $800-900 per each after all taxes & gratuities that the club charges. The Omnia bottle service & table prices are some of the highest on the Las Vegas Strip, but this club is unmatched in design.  The Omnia bottle service waitress & security staff are top-notch & there to ensure you have a great time in this top venue.
Make sure you contact us for the best VIP Table rates & locations. We are there every week and get amazing locations. Curious about Tables for your weekend in Vegas? Fill out a form and a host will contact you to discuss options & locations.
Conclusion
When in Rome…  Caesar's Palace has been revived with this amazing nightclub venue. Las Vegas Strip views from the patio, multiple types of rooms, an unforgettable robotic chandelier and some of the worlds greatest DJs are just a few of the reasons to visit Omnia nightclub on your next Vegas trip. Please contact us if you have any questions about Omnia, or anything else Las Vegas related. See you soon!
Omnia Pictures