By Jeremy Crudup
The Best Party Spots in Las Vegas to celebrate New Year's Eve 2014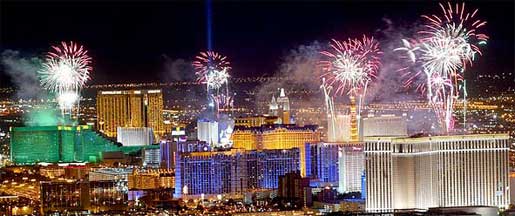 Las Vegas is the best place to visit if you want to have the ultimate New Year's Eve party. Boasting spectacular and stunning experiences and parties at every hotel up and down the Las Vegas Strip. "America's Party City" puts on one of the most elaborate and largest pyrotechnic firework show in the world. The city's bevy of world famous nightclubs and lounges will all host elaborate parties, each with its own celebrity hosts and performers. Foodies can enjoy incredible multi-course meals from some of the top chefs in the world. There is a way for everyone to find something amazing and memorable to do. Here are some of our best party spots in Las Vegas to celebrate New Year's Eve. Enjoy!
Fireworks on the Las Vegas Strip
Fireworks displays have become a standard for New Year's Eve celebrations worldwide, and Las Vegas is known for being one of the best in the world. Many travelers ring in the New Year watching the magnificent fireworks display animate the Las Vegas Strip. This impressive pyrotechnics display is launched from the varies rooftops of numerous hotels along the Las Vegas Strip. Hotels like ARIA, Planet Hollywood, The Venetian, The Stratosphere Tower, MGM Grand Hotel & Casino, Treasure Island (aka TI) and Caesars Palace will all be participating in the show. This annual award-winning firework spectacle is produced by world-renowned Fireworks by Grucci, based out of New York. The dazzling, choreographed 8-minute show will light up the night's sky from various sites with more than a reported 88,000 fireworks! Get a good spot for the show. You don't want to miss this one.
Nightclub Parties
The hottest DJs on the Earth congregate in Las Vegas at their respective nightclubs to give party-goers an unforgettable night of bass-pounding music, celebration with friends & stranger from around the globe, at the some of the top nightclubs and lounges on earth! Celebrities, TV, music and movie stars, and reality stars of all grades and types also host parties up and down the Las Vegas Strip (many of which are performing the same weekend). No matter your music choice, there is a party out there for you.
Cover charges for New Years Eve events in Las Vegas can vary from venue to venue. Ladies are typically $50-75+ at most places, and Gentleman vary from $75-200+ depending on your nightclub choice. Most offer some sort of appetizers and hors d'oeuvres, and most have some sort of open bar. But if you have the bucks (or gambling winnings) then its time to step it up with a VIP Table. This rather expensive option includes a VIP table for the evening (No free chairs or seating in Las Vegas nightclubs), a personal waitress pouring you the drinks of your choice.
One of Las Vegas' newest dance clubs, Hakkasan, inside MGM Grand, welcomes superstar and Grammy-stacking DJ Calvin Harris for a special New Year's Eve celebration in the main room, with DJ Ross One taking to the turn tables in the mostly hip-hop themed Ling Ling Club room. This multi-level club (5 total including the restaurant) features intimate sitting rooms and bars, along with an expansive and dramatic Main Room. No expense was spared making this super-Club. Enjoy a multi-course dinner before you party in the world-famous Hakkasan restaurant. This Michelin-rated brand has restaurants in the most prestigious locations on earth. Note, make sure you book well in advance to ensure a reservation! Both Hakkasan nightclub & the Hakkasan restaurant have been popular.
The Wynn Las Vegas and Encore offer a variety of places to ring in 2014. Choices are good right? Surrender Nightclub, located inside Encore at Wynn Las Vegas is one of these choices. Steve Wynn knew what he was doing when he designed this one-of-a-kind nightclub. It's a great place to party as you countdown to 2014 with the sounds of electronic dance music superstar Diplo. At one of the world's top party spots in the world, XS Nightclub you'll find Kaskade on the main stage performing all of his famous hits along with some new tracks. Music star Lil Jon will rock Tryst Nightclub. This visually striking nightclub even includes a lake and waterfall. All 3 are great choices for the biggest party night of the year.
Marquee Nightclub, located inside the beautiful Cosmopolitan of Las Vegas, will feature heavily passed hors d'oeuvres from 9 pm to midnight including a premium open bar from 9 pm to 11pm. DJ Chuckie will spin his greatest hits and other top favorites into the early morning hours for your enjoyment. Marquee features 3 unique rooms, each with a different styles of music, decor and energy. Make sure you roam around and explore the different vibes of each!
LIGHT Nightclub, inside Mandalay Bay Resort & Casino, presents partygoers with "Phase 2: The Journey" featuring a performance from DJ Sebestian Ingrosso, previously one of 3 members of Swedish House Mafia. This new Cirque Du Soleil-inspired nightclub, which opened in May 2013, features an expansive dance floor and multi-level sitting areas for plenty of people watching! Costumed Cirque performers will dazzle you with stunt, choreography, and acrobatics. Huge LED wall enhance your visual experience and provide a show like no other. Doors open at 9 p.m.
If you prefer more of a Hip Hop vibe, plan a memorable night at The Bank Nightclub. Centrally located inside famous Bellagio, this nightclub will count down the last seconds of 2013 with a live performance from Common. Cover for Gentlemen is $125, Ladies are $50 plus tax. The two-hour open bar will kick off the night at 9 pm.
Celebrate the most glamorous night of the year with hip-hop sensation J. Cole at 1OAK nightclub, inside The Mirage Hotel & Casino. The GRAMMY-nominated artist has two #1 albums under his belt and is ready to party with you as we start a great new year. Cover for Gentlemen is $125, Ladies are $50 plus tax. Festivities will kick off with an open bar at 9 pm. With several rooms and a central dance floor this nightclub is sure to be a night you'll not soon forget. 1OAK is also center-strip with easy access from the North side casino valet and parking garage.
The original trend-setting club in Vegas, Body English closed a couple years back, but has recently re-opened and re-formatted their nightclub experience. Located inside the Hard Rock Hotel & Casino, Body English hosts a memorable night that starts at 9 pm, including an open bar until 1 am. Or you can relive your youth in the 90s, the era of grunge rock, flannel shirts and ripped jeans with Empire Records' "All 90's Experience" at the Vinyl showroom beginning at 9 pm also.
Jeremih is doing a special live performance for guests of Chateau Nightclub & Gardens inside Paris Hotel & Casino. Tickets include an open bar from 9 pm until midnight along with electrifying sounds from the DJ that will have party people popping champagne as they say farewell to 2013. Chateau has a rooftop area in addition to the main indoor club. This nightclub incorporates the Eiffel tower feature into its rooftop party area. This allows for a bird's eye view of the New Year's Eve party on the Las Vegas strip below, including a great view of the famous Bellagio fountains.
Located inside The Palazzo Hotel & Casino, LAVO nightclub will feature DJ VICE on the turntables for New Year's Eve festivities. Guests will enjoy a two-hour premium open bar from 9-11 pm along with circulated varieties of hors d'oeuvres. Next door inside The Venetian, Miguel takes the stage for a live performance at the world-renowned TAO nightclub. All Guests will also enjoy a premium open bar and passed hors d'oeuvres starting at 9 pm also. TAO has been busy for past NYE so make your plans early!
Concerts & other entertainment
Everyone knows Las Vegas is known for its vast variety of live entertainment every night of the year, but New Year's Eve brings out the very best.
Oops, she did it again. Britney Spears is set to open her highly-anticipated live show in Las Vegas with a New Year's Eve weekend premier of her show, "Piece of Me" at Planet Hollywood Resort & Casino. Tickets are available for shows on Dec. 27, 28 and 30 along with a special New Year's Eve performance on that kicks off at 10 pm. Fans will experience all their favorite classic Brittany song, plus some new tracks from her eighth studio album.
Celine Dion is set to ring in the 2014 with her fans at The Colosseum of Caesars Palace. Her masterful and iconic show has sold out crowds of adoring fans many times since its debut years ago, but this NYE show is sure to be special. Perhaps eat at Spago (Wolfgang Puck) in the Forum Shoppes before the show starts at 7:30 pm.
The Pearl Concert Theatre, inside Palms Casino Resort, will be packed for popular singer Robin Thicke. Hear hit mega-hit "Blurred Lines" in Las Vegas on Dec. 29. Tickets are available for the concert that starts at 8 p.m.
Maroon 5 will kick-off 2014 with two shows at the Mandalay Bay Events Center on Dec. 30 and 31. Both shows for this GRAMMY award winning band start at 8 pm and will open with special guests, A Great Big World and Rozzi Crane. Check out MIX lounge after the show for amazing views of the Las Vegas Strip at night.
Want to go ice skating in Las Vegas? Now you can. High above Las Vegas Boulevard, at The Cosmopolitan of Las Vegas rooftop patio, patrons can lace up their ice skates for a winter wonderland lap on New Year's Eve. At The Ice Rink at Boulevard Pool, Vegas visitors can also enjoy an open bar along with a spectacular view of the Strip's midnight firework show. Skating hours are from 9 pm to 1 am. They will also be featuring a live stream of the Bruno Mars concert as it takes place from inside the new performance center, The Chelsea. Bruno will be will be performing multiple dates, on Dec. 29 and 31 with the festivities beginning at 9 pm nightly.
The Fremont Street Experience welcomes in 2014 with their Downtown Countdown New Year's Eve celebration that takes place from 6 pm to 2 am. Fremont Street is a great place to just walk the street and check out the sights. This street party includes non-stop music from bands like Blues Traveler, Loverboy and Vince Neil, Buck Cherry and Adelitas Way along with special performances from local bands including Arena, The Blackjacks, Clockwork, Kid Hollywood and Monroy. The Downtown Countdown also includes a 2013 year-in-review retrospective high above on the Viva Vision screen. Enjoy virtual 'fireworks' on the million-plus light display of this enormous overhead canopy. Admission to Downtown Countdown is $30ea when purchased online by Dec. 26. Beginning Dec. 27 tickets go up to $40ea. Purchase online, in-person at any of the Fremont Street Experience member hotel-casinos, or at the event gates. New Year's Eve is the one and only night of the year when Fremont Street Experience has paid, ticketed admission. New Year's Eve admission is restricted to persons 21 and over for this night only. Typically it's all ages & free, but it's still one of the most affordable parties for New Year's Eve.
World famous Blue Man Group offers two special New Year's Eve shows at 4 pm and 7 pm at the Monte Carlo. If you haven't seen their new show, it's unforgettable!! An evening of mayhem, robotics, comedy, vaudeville… and balls.
And of course Cirque du Soleil is offering guests special holiday show times to ring in the New Year. Enjoy their unique, innovative, acrobatic, and remarkable shows before celebrating New Year's Eve in Las Vegas. Show times are as follows:
"O" at the Bellagio at 4 pm and 6:30 pm
Zarkana at ARIA at 4 p.m. and 7 pm
KÀ at MGM Grand at 6 pm and 8:30 pm
Mystère at Treasure Island Hotel & Casino at 7 pm and 9:30 pm
Michael Jackson ONE at Mandalay Bay Hotel & Casino at 7 pm and 9:30 pm
The Beatles LOVE at The Mirage Hotel & Casino at 4:30 pm and 7 pm
Zumanity at New York New York Hotel & Casino at 6 pm and 8:30 pm
Getting around Las Vegas can be tough on New Years Eve. Plan ahead with your timing and remember that all those people visiting have to get around also. Taxi lines can become a nightmare. Reserving a personal limousine is the deluxe way to go, or using the Monorail is another great way to get around. There's also a bus route. Or just stay in a hotel close to the parties you want to visit and just walk the Strip.
As a friendly reminder, drinking alcohol outdoors on the Strip is not legal. It is much more tolerated in Las Vegas but is by no means 'Legal'. Please be aware that a larger-than-usual police presence will be on hand up and down the Strip for your safety. To ensure a fun and memorable evening, we recommend not breaking too many rules during the night and if you have any questions, don't hesitate to ask an officer. They are much more relaxed and cool than your police back home, as they deal with partying crowds every weekend. We want to ensure a safe New Year's Eve in Las Vegas while you're enjoying the celebrations! Please don't drink & drive, and have a safe and happy New Year. Come back and visit us soon!