By Jeremy Crudup
Our Top 5 Las Vegas Nightclubs for 2014
The Las Vegas nightclub scene has changed drastically over the past few years. With so many new nightclubs to choose from it can be tough to know where to go. This is a basic Top 5 list based upon nightclub total sales/revenue (a good general judge the clubs appeal to customers), customer comments and reviews (what they like about certain Vegas nightclubs), personal knowledge from our VIP Hosts, and overall general buzz & popularity regarding the following top Las Vegas nightclubs. Here is our list of the Top 5 Las Vegas Nightclub.
Authors Note: If you want the quick version on what's the best Las Vegas Nightclub, scroll down and checkout our infographic below!
Hakkasan Restaurant & Nightclub (MGM Grand)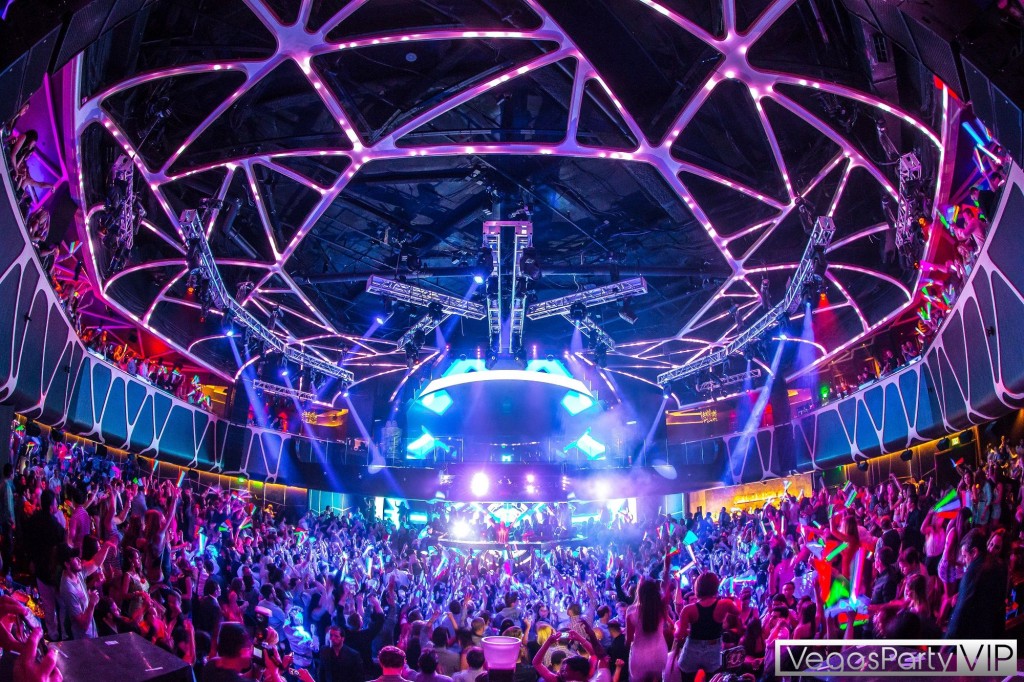 This is not your average nightclub, even by Las Vegas standards. Opening in April 2013, the multi-level, multi-room, multi-Million dollar Hakkasan nightclub and restaurant is changing nightclub standards for Las Vegas, and the world.
Boasting a rumored $180 million dollar price tag, this new MGM based restaurant & nightclub project was highly anticipated. Months of construction, rumors and over $100 million was invested in renovating what used to be Studio 54, along with the Tropicana/Las Vegas boulevard façade of the MGM Grand, creating 80.000+ sq. ft. of high-end dining and partying space for an unmatched nightlife experience. No expense was spared in the construction of this new Super-Club. The best lasers, LED lighting, and state-of-the-art sound system.  If $100 million wasn't enough to entice people to visit, they went out and spend an estimated $70 million on residency contracts for world-renowned superstar DJs like Tiesto, Calvin Harris, Deadmau5, Steve Aoki, Dada Life and many others. The best venue with the best DJs.
Inside this club is incredible. 4 rooms, multiple bars, the best state-of-the-art sound system & LED wall and lighting systems available. The entire DJ booth are is surrounded with LED screens, lasers, CO2 guns and other production toys. Confetti falls from the ceilings of the main room, slowly like rain, as the world's top DJs spin their #1 hits. Costumed go-go dancers perform surrounded by lasers and strobes and LED screens dance about the DJ stage to the beat. The VIP bottle service is unbeatable if you can afford it, with amazing VIP booths and balcony tables. Booths even have drawers under the seats where you can store your things, including a variety of types of cell phone chargers and attachment so you can charge the phone you've been tweeting and Instagram-ing on all night. The waitresses are beautiful, the bussers are prompt and the security is attentive. Quality and Service are king.
Why it's #1:
With so much anticipation during construction, unmatched venue light & sound technology, unbelievable price tag, unparalleled DJ Residency list, ornate and elaborate design, top-rate staff, combined with a world famous Michelin-rated restaurant group and the famous MGM Grand Hotel & Casino name, it's no surprise this heavyweight came out on top.  On big fight nights, big concert nights, holiday weekends or superstar DJ nights Hakkasan is PACKED! Tiesto (world's most successful & popular DJ) and Calvin Harris (with his numerous Grammys & #1 hits) always sell out and can be at capacity before midnight. Table Reservations or VIP Entry recommended if you want guaranteed entry.
XS Nightclub (The Wynn)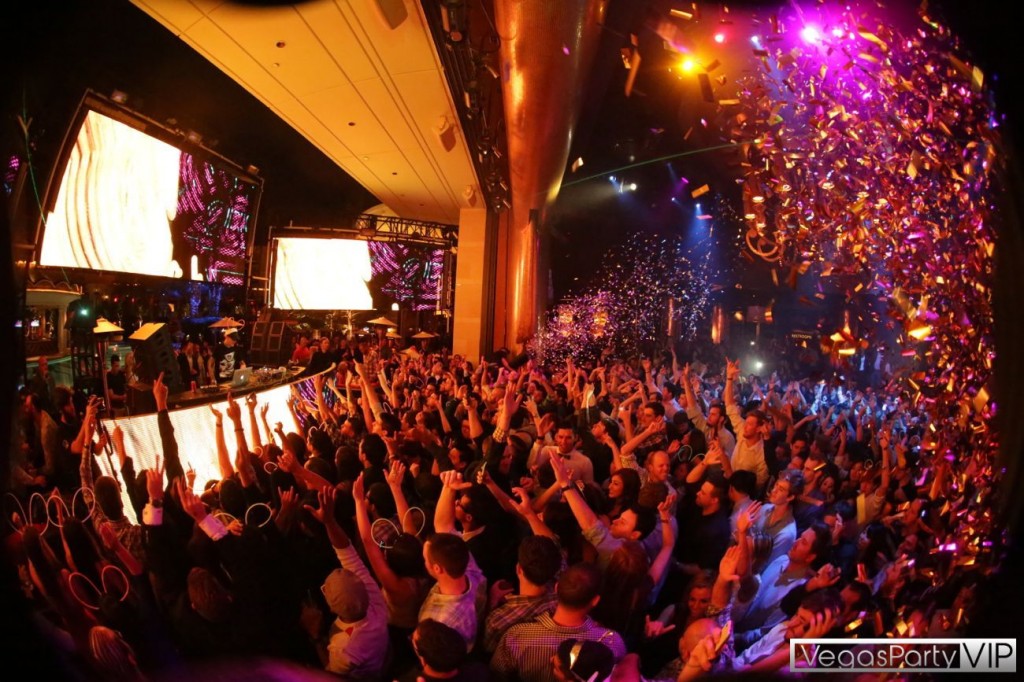 Matching its namesake, XS Nightclub is definitely that, and more. Located at the beautiful Wynn/Encore, XS nightclub thrives on exuberance and sex appeal and was #1 or tied for #1 in Las Vegas for the last four years, according to Bar & Nightclub magazine. Since its inception in 2010 this beautiful & unique nightclub has been setting the standard on what is possible at a Las Vegas nightclub. Boasting a excessive incomes (or should we say XS-ive) topping $80 million in 2012, this favorite of Vegas club-goers also recently won "Best VIP Experience" award from Vegas Seven magazine, a local Las Vegas publication. The world's wealthiest and most influential people fill the luxury dance floor booths, spending $5,000-$10,000 per table, even double that on major holiday weekends. There's even a cocktail that comes with diamond cufflinks. Now that's high-end! Names like Paris Hilton, 8x gold medalist Apollo Ono, Olympian Ryan Lochte, tattoo artist (and recent Deadmau5 bride) Kat Von D, Tara Reid and many others have been seen inside the golden doors partying the night away.
Entering thru one of the most efficient nightclub entry lines in Las Vegas (especially the VIP Lines) you'll descend down the central staircase into the gorgeous Main room. Adorned in gold everything, the centerpiece of the main room is the enormous spinning chandelier hanging over the main dance floor area. Various VIP booths surround the main dance floor, filled with the high-end patrons enjoying VIP bottle service, dancing to the music of some of the top DJs in the world. XS is mostly an EDM (electronic dance music) venue, focusing on international electronica acts like Above & Beyond, Kaskade, Afrojack, Steve Angello (from Swedish House Mafia), Cedric Gervais, and many others.
Another reason XS is so great is it's large outside area. This outer area allows for more space and areas to talk over the banging bass. The central bar is surrounded by a large pool which is used for some of the summer NightSwim parties (Sunday nights during warmer, summer months, swimwear strongly recommended). Two stories of deluxe Cabanas and other various tables litter the pool deck, which is less densely packed as the main room. This allows patrons to enjoy the views of the outdoor pool area, and gives more space for flirting and socializing among your fellow partiers, while still allowing you to enjoy the incredible sound system. XS is also known as one of the better nightclubs when you don't have VIP bottle service due to its large poolside outdoor patio, Blackjack tables, and other bars. With its vast popularity, repeat #1 nightclub awards, top notch DJ talent, beautiful décor, vast square footage, and amazing staff it's no surprise that this Las Vegas nightclub made our Top 5 list.
Why it's #2:
XS has been one of the top nightclubs, if not THE top nightclub in Las Vegas since its inception 4 years ago. Steve Wynn is known for being a man of vision, as XS shows off this vision well. XS carries huge international name recognition, huge list of celeb VIP guests, world famous DJ talent, incredible, high quality decor, and our favorite nighttime pool party, XS NightSwim. The main room is the place to be at 2 a.m. when the main DJ comes on. If you haven't been to XS, you need to check it out during a top DJ. It will truly change your idea of what a nightclub can be.
PS: If you want a truly memorable experience at a Las Vegas nightclub, consider bottle service. It could be a better alternative for your group if you're planning on drinking at the club. Wait times are the bar can be very long.
Marquee Nightclub (The Cosmopolitan)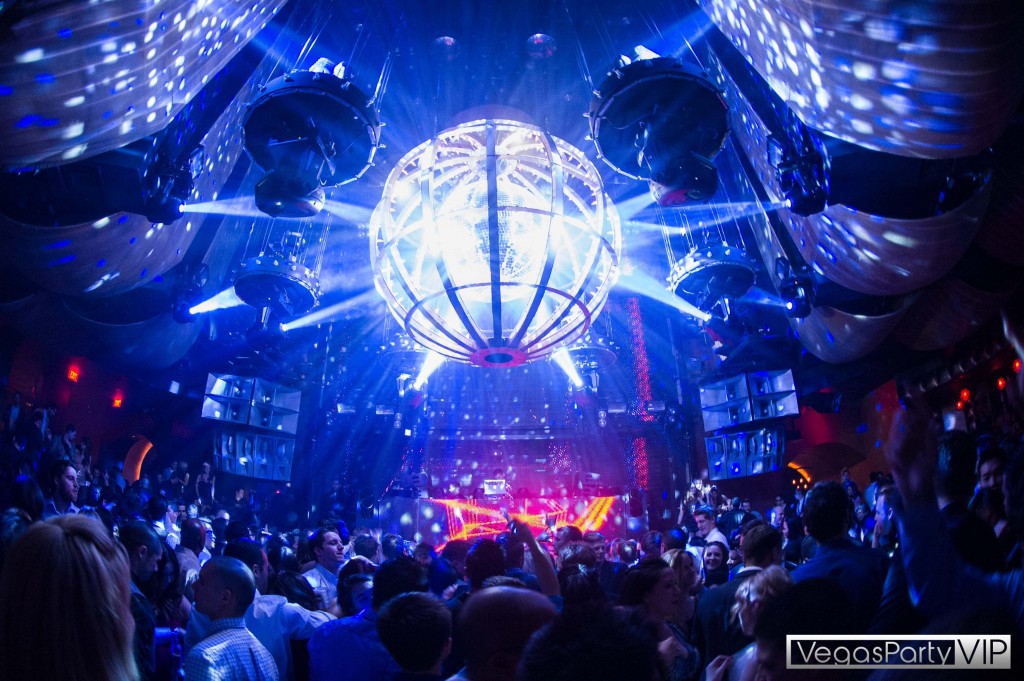 Located in the ultra-hip Cosmopolitan Hotel, Marquee Nightclub takes the #3 spot on our Top 5 Las Vegas nightclub list. Managed by the TAO Group (famous for TAO restaurant & nightclub in New York and Las Vegas), this technology-advanced nightclub is one of the most popular and coveted clubs in town. In the city that never sleeps, Marquee is a must-see for the professional partier.
Entry to this club can be tough, especially for all-guy and bachelor party groups. Marquee is strict on Guy/Girl, which ensures a good crowd every night. Once past the ropes and ID checks, the nightclub entryway is through one of 3 elevators up to the main nightclub floor area. The sounds of the DJ play in the elevator as a prequel of what's to come.
Marquee boasts 3 different rooms, totaling 62,000 sq ft of interior party space. The main room has 50ft ceilings, a huge LED & projection walls behind the raised DJ booth, and an ear-shattering multi-million dollar sound system. Two rows of centrally located VIP booths surround the main room dance floor, with additional smaller tables slightly farther from the DJ. High-end partiers dance to the music as confetti rains from the ceiling. Music in the central room is almost entirely electronic dance music (EDM). Other rooms include the BoomBox room, which caters mostly to Hip-Hop music, The Library, plus an outdoor patio for a grand view of the Las Vegas Strip and neighboring City Center.
This one-of-a-kind Las Vegas nightclub venue also boasts an incredible roster of resident DJs including Armin van Buuren, Avicii, Chuckie, Benny Benassi, and more. During Electric Daisy Carnival week, Marquee also joins forces with Insomniac Events to produce events in conjunction with EDC, combining the infamous Las Vegas strip with the best in electronic dance music DJs from around the world. Also, during the warmer summer months Marquee Dayclub is a great daytime pool party spot.
Why it's #3:
Marquee has an incredible name (also a nightclub in New York), is located at one of the premier younger hotels & a top choice for younger Las Vegas partiers & travelers. The Cosmopolitan is hip, chic, new, and carries a certain class & naughtiness that translates well into Marquee nightclub. The staff is attractive, highly trained, and there to make you feel like a king or queen for the night, especially with VIP bottle service. Marquee also has unique 3 story Bungalows that attach to the nightclub, allowing those lucky enough to be staying in one the freedom to come and go as they please. No other venue has rooms connected to the nightclub. With revenue approaching the $80 million per year mark in 2012, Marquee has made a mark for itself with the Vegas nightclub heavy hitters and is here to stay. Plan ahead, and enhance your experience by springing for a VIP table if you can. Worth it.
Light Nightclub (Mandalay Bay)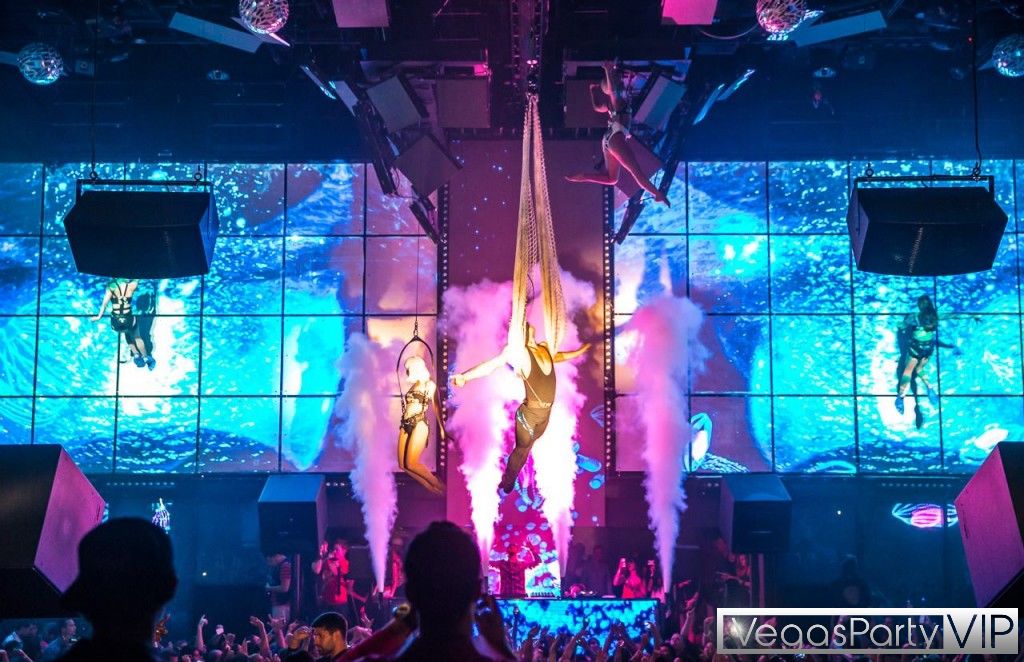 LIGHT is another one of the newest Las Vegas nightclubs that have popped up in the last year or so, but that is where the similarities end. Opening in May of 2013, the new Mandalay Bay based nightclub is changing the face of nightclubs. Teaming up with Cirque Du Soleil, this new bold nightclub venture focuses on being different. Costumed performers dazzle your eyes with acrobatics, flips, and other choreographed twist and turns as some of the top DJs play their best tracks for the crowd.
There is only one room at Light, but they've done it right. The entire wall behind the DJ booth is covered with sometimes-transparent LED coverings and screens, allowing the viewer to see the electric visuals one minute, and a Cirque performance behind the wall the next minute. Variety, visuals, costumes and sex appeal are words that come to mind. Freaks, mimes, and masks are a few of the characters you'll see roaming the venue and on rings, ropes & trapeze. The whole nightclub experience feels different at Light. Fun, new and entertaining like a Vegas show, yet darker and more mysterious then most other nightclubs. Light nightclub caters to your senses and excites each one differently.
The main dance floor allow for more non-VIP room than most other clubs. 4 different tiers of VIP booth create C-shaped levels on the main floor, each tier closer to the DJ booth, with the balcony tables above. There is a main bar at the back of the club and another on the balcony upstairs. The birdcage is a popular photo op spot, where you'll find girls taking turns on photos. This nightclub also offers a few areas to sit, a rarity in newer nightclubs. With young & up-and-coming DJs like Nicky Romero, Zedd, Skrillex, Thomas Gold, A-Trak, Bassjackers, and many others mixed with the costumed performances and unmatched visuals Light nightclub is surely here to stay.
Why it's #4:
Variety. Different. New. Special. Unique. These are all great descriptive words for Light Nightclub at Mandalay Bay. There is no other club like it anywhere. Performances in nightclubs are not new, and some other similar ideas have failed (The Act, previously at The Palazzo) but I think Cirque Du Soleil and LIGHT have gotten the combination right this time. It's not just lights, music & booze, but something more refined, entertaining and interesting.  The huge lines of party goers on Friday & Saturday nights are enough proof of its growing popularity, and this nightclub is also known to hit capacity by 12-midnight on many occasions.
Surrender (Encore)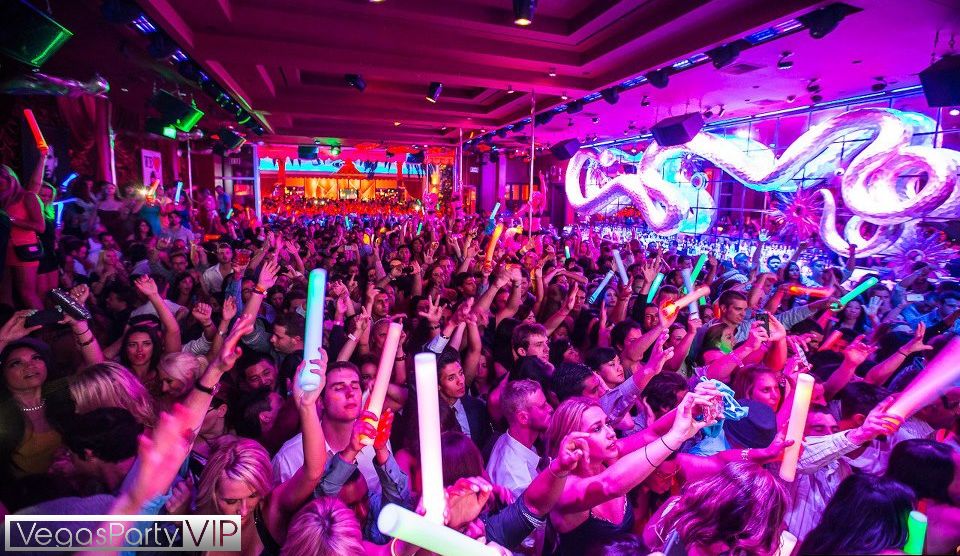 Another Steve Wynn masterfully-envisioned venue inside The Encore is Surrender nightclub. Sharing venue space with its daytime counterpart & top pool party, Encore Beach Club, this Las Vegas nightclub is something special and a must-see for any nightclub or EDM fan.
The main room is filled with the expected VIP booths adorning the dance floor. You can't help but notice the huge green serpent over the main room bar as go-go dancers shake it for party-goers to see. A 3-sided main room, with the missing 4th opening up to the outdoor pool deck. Two stories of bungalows with balconies & private Jacuzzis for the higher-end patrons, with Cabanas and Daybeds and other tables littering the pool deck area. There's also a huge table gaming area for gambling and drinking near one of Surrender's 3 bars. In cooler winter months a large covered platform is erected to provide more party space and better usage of the venues pool area. The furniture and pillows are top notch and high quality. Again, Steve Wynn spared no expense creating the amazing nightclub venue.
Surrender too, has big hit-making DJs performing on a regular basis, like other top nightclubs on our list. Afrojack, Knife Party, Will.i.am, Cedric Gervais, Porter Robinson, and Diplo to name a few. Obviously a VIP table reservation is the way to go here, but if that's not in your budget this club is still really great without one. Make sure you check it out on your next Las Vegas trip.
Why it's #5:
Surrender is a one of the most beautiful venues in Las Vegas. The European styling throughout make you feel like Italian royalty. The Splash Party in the summertime is a really fun event, where club-goers can wear swim attire to the nightclub. Swimwear highly recommended for this unique party as the pool is in play. You can swim, drink and party during those hot summer nights. Surrender also gets a lot of XS musical talent due to it being in the same hotel/marketing family. The winter can be a little chilly outside during the winter months but the amazing music and great, high-class vibe of the venue will keep you coming back.
Honorable mention:
TAO Nightclub (The Venetian), PURE Nightclub (Caesar's Palace), 1OAK Nightclub (The Mirage), & Tryst Nightclub (The Wynn). All valiant alternatives to the best Las Vegas nightclubs.
All of these Las Vegas Nightclubs have their own style, feel, and unique features. We hope this short guide to the Top 5 Las Vegas nightclubs was beneficial, informative and helped you get a rough idea of what clubs you'd like to visit on your next Las Vegas vacation.
If you have any questions about partying in Las Vegas, feel free to call/text us at (702) 279-2365. We've helped thousands with bachelor parties, birthday parties, VIP Packages, you name it!
PS. As promised, here's the quick version for the Best Nightclubs in Las Vegas in 2014… feel free to share with your friends!