KAOS Dayclub Las Vegas (Temporarily Closed)
$690 million renovations of The Palms Casino Resort is now ready to get the party started on Thursday, April 4th with the opening of its brand new venue KAOS. This is a multi-level dayclub linked with the nightclub by means of a huge glass wall, which retracts as a grand welcome gesture to visitors; state-of-the-art audio, video and lighting technology; an amazing artist line-up, and a rotating DJ booth. All that puts a new spin on the Vegas Party experience.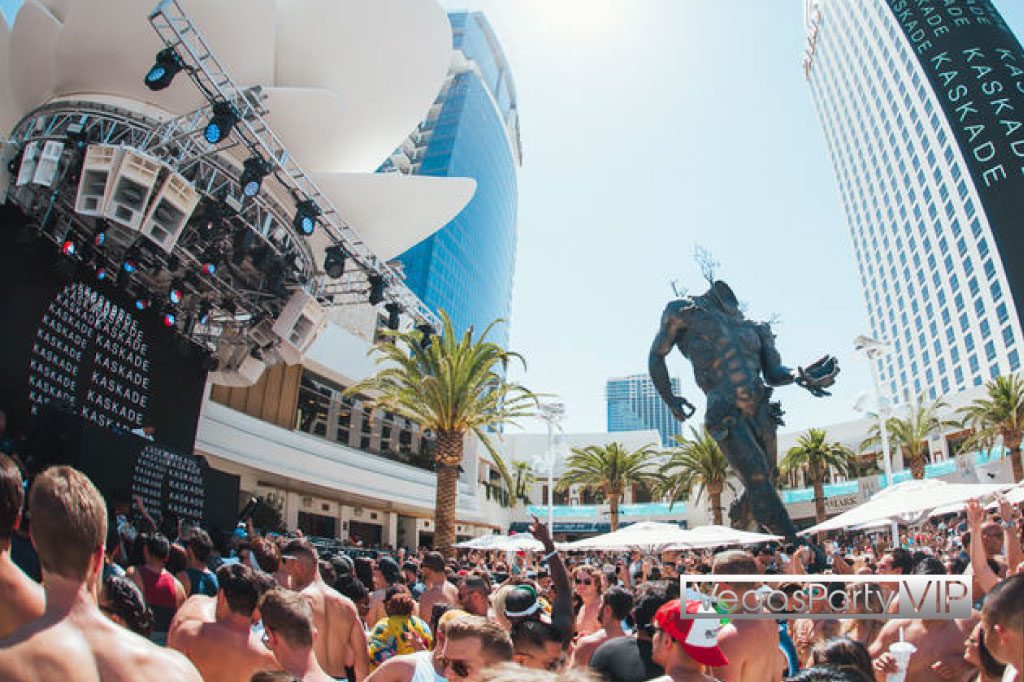 Facts and Vibes
KAOS is a new entertainment venue comprised of a 73,000 square foot Dayclub (designed by Friedmutter Group LV) and a 29,000 square foot Nightclub (designed by Rockwell Group), The largest day/nightclub venue in the world at 102,000 square feet; completely new day-life and nightlife experience in Las Vegas. This multi-level day/nightclub is integrated with a massive glass door dividing indoor and outdoor spaces, a DJ booth that rotates 360-degrees to accommodate the indoor and outdoor crowds, and a supplemental dome cover that will make KAOS a year-round destination.
At the day club, you can use any of the two main pools (one of which has a "Headless Demon" sculpture designed by British contemporary artist, Damien Hirst) or in any of the private pools inside the 39 cabanas. While the nightclub's DJ booth can rotate to entertain the indoor and outdoor crowds, the day club has its own separate party stage in order to provide for multiple performance locations. The day club section also includes an additional stage and Vegas's largest LED screen (located on the eastern side of the Palms' "Ivory Tower"), streaming live shots of the dayclub to attract Vegas visitors to the venue.
KAOS Performers
KAOS will have performances by musical artists spanning hip hop, EDM and Latin genres. Some of the venue's exclusive residencies with world-renowned musical artists include: Above & Beyond, Armin van Buuren, Bad Bunny, Breathe Carolina, Brooks, Cardi B, Cheat Codes, Deadmau5, Eric Prydz, G-EAZY, Gorgon City, Jauz, J-Balvin, Kaskade, Louis The Child, Marshmello, DJ Politik, Skrillex, Slushii, Southside, and Vice.
Specifically, Opening Weekend's line-up is as follows:
Thursday, 04/04: F#%KIN' KAOS THURSDAYS with Marshmello
Friday, 04/05: Travis Scott & Skrillex
Saturday, 04/06: Marshmello (Day Club)
Saturday, 04/06: Cardi B, J Balvin & G-Eazy (Nightclub)
Every performance at KAOS is particular to each artist with next-level production and unique technology.
Contact us for more information on KAOS Nightclub Entry & Bottle Service.
Open: Friday – Sunday / 11am – 6pm
Dress Code:
Fashionable day club attire required. NO vulgar, offensive, transparent, torn clothing, jeans, long pants. No oversized or baggy clothing. No exposed undergarments. Footwear required to enter and exit the venue.