Chateau Nightclub Las Vegas
This two-story, 45,000 square-foot nightclub is divided into three deserving areas for your partying enjoyment.
Enter up the beautifully-ornate, ascending iron staircase into the Main Room. With its modern French decor fused with old world elements this centralized main room dance floor is filled with detailed chandeliers, vaulted ceilings, state of the art sound & lighting, mixology-manned bars, and VIP Booths. This is where the party will be if a celeb is around. Dance the night away here, or explore.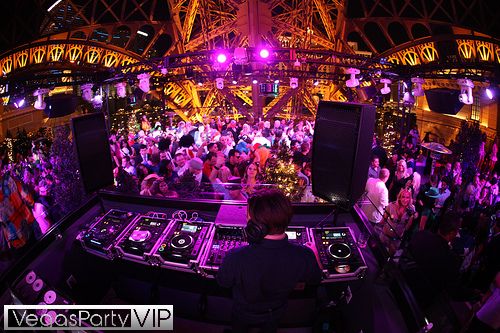 Chateau Nightclub and Rooftop spans two stories and over 45,000 square feet and is located at the base of the Eiffel tower replica at the Paris hotel. The space offers two different kinds of nightlife experiences. The Nightclub, or main room boats an upscale French-inspired décor that's classy, yet not stuffy and includes impressive chandeliers, mirrors and rich blue and red accents. Several architectural features make this space unique: whether it's the unexpected spiraled staircase that ushers club-goers into the second-floor entrance, the vantage point of the VIP booths that sit elevated above the dance floor, or the marble mantel fireplace that houses the DJ booth several feet above the crowd, they all work in tandem along with vaulted ceilings to present an experience fit for nobility.
Outside is the Chateau Terrace, overlooking the famous Las Vegas Blvd, where the vibrant energy of party-goers from around the globe is stimulated by the DJ's touch on the tunes and the lights and buzz of Vegas two stories up. Enjoy this open-air setting at one of the bars with friends, or make some new ones… Either way, the views from the Terrace are tough to beat.
"Insider tip: Directly across from the Bellagio, Chateau's Terrace is the perfect place for a well-timed photo op of the Bellagio Fountains. Last show is Midnight."
Underneath the archways of the Eiffel Tower lies an unparalleled open-air nightlife experience of Chateau Gardens. Bathed by the lights of Las Vegas this lavish 22,000 sq.ft. rooftop boasts lush, blossoming gardens and greenery-covered walls & archways, mimicking a Victorian garden in Versailles. With a separate DJ booth and breathtaking views, this lazer-light infused area feels like a separate world away. Complete your evening with VIP Bottle Service, Bellagio Fountains, and unmatched panoramic views of the Las Vegas profile.
Open: Thursday – Saturday 10pm-4am
Wednesday- Saturday 10:30-close
Cover: $20 for ladies & $30 for gentleman on Thursdays thru Saturdays.
Cover charge is subject to change on holiday & special event nights.
Dress Code: See our 'Vegas Party Tips' for info.
Upscale casual; pants or jeans and collared shirt, blazer and dress shoes recommended for men
No athletic wear (caps, shorts, tennis shoes, etc.)
No shorts, sandals, hats
Music: Open format, House, Electronic, Rap, Hip-Hop, R&B