Top Las Vegas Nightclubs for 2015
Are you headed to Las Vegas soon? Not sure where to go? Check out the Top Las Vegas Nightclubs for 2015 for some guidance.
In the past 4-5 years the Las Vegas nightclub scene has changed dramatically. It seems like every hotel on the Strip is trying to build a new nightclub. With so many interesting options it's hard to tell what the top Las Vegas nightclubs are. You only have a few 'nights out' of partying, so picking a fun & happening nightclub is an important decision. Not sure where to go? Don't worry, we're here to help.
Las Vegas is home to 7 of the Top 10 Nightclubs in the United States, and also 15 of the Top 100 venues, more than any other US city.
The following list is based upon Nightclub & Bar Magazines Top 100 list, yearly gross sales, customer's experiences, & our years of personal, hands-on knowledge and opinion. To us, these are the must-see venues during your next vacation to Las Vegas. Here are our Top Las Vegas Nightclubs for 2015.
#1 – XS Nightclub (Encore)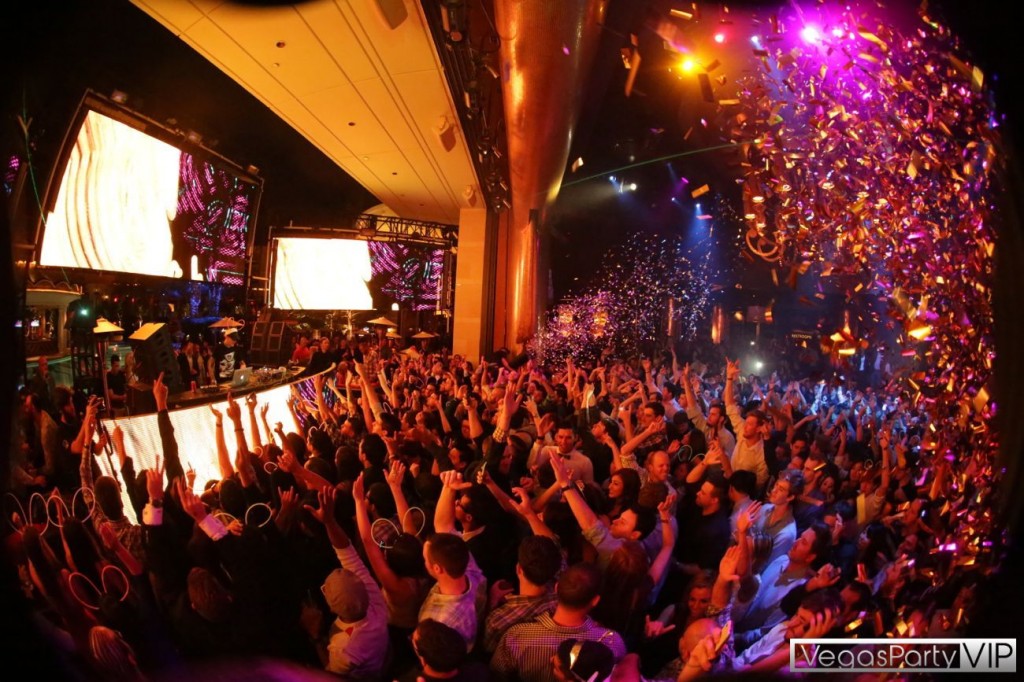 XS Nightclub is opulent, impressive, vast & high-end. The parties are great, the people are beautiful, and the music is amazing. It's everything a nightclub should be. For anyone who's been to XS on a busy or holiday weekend, you know what I'm talking about. For those of you who haven't been, you should add XS to your list of Place to See in Vegas.
Open Friday to Monday weekly, this impressive venue has both indoor & outdoor features. The Main Room is filled with expensive, deluxe private VIP booths & tables, in a circular tiered fashion, surrounding the rather large dance floor. The DJ Booth is raised & surrounded by screens & ultra-VIP Stage booths reserved for special clientele.
The Outdoor area is just as nice as the Main Room. Comprising of about 65% of the total area of the club, this is where most people end up during the night, especially when the main room gets packed. Various tables surround the outdoor pool area (location of Sunday NightSwim party during the summer months), which has a gaming area & bar located near the pool. Two stories of private VIP cabanas line the edges of the outer area.
For the 6th year in a row, XS Nightclub (inside the Encore Las Vegas) is the #1 Nightclub in the country according to Nightclub & Bar magazines Top 100. XS is also one of the highest grossing nightclub establishments on the planet. Grossing somewhere between $103 – 105 Million in 2014, this club is Big Business.
Why it's #1:
6 years in a row – enough said. If any sporting team won 6 championships in a row, as a fan you would have to consider them legendary, Hall of Fame, an All-Time Great. XS fits this perfectly.
This is a legendary club, with high-end, elite clientele. Not the first club in Vegas, but perhaps the most consistent in terms of revenue & number of patrons yearly. Some would argue that this is THE nightclub that revolutionized the industry of nightlife in Las Vegas.
Pros & Cons:
Pros: Tons of space to check out, indoor/outdoor layout, gaming tables outside at the Island, best nighttime pool party event (XS NightSwim, Sundays in the summer), top name DJs like Kaskade, Deadmau5, David Guetta, Arty and many others. A beautiful nightclub that does everything right.
Cons: Expensive ($600-700/ bottle, $15 drinks), Main Room can get very packed, and some nights there are separate hand stamps required for entering the Main Room (Guest List customers are outside only). On busy nights we recommend VIP Hosted Entry or a VIP Table Reservation.
#2 – Hakkasan Nightclub (MGM Grand)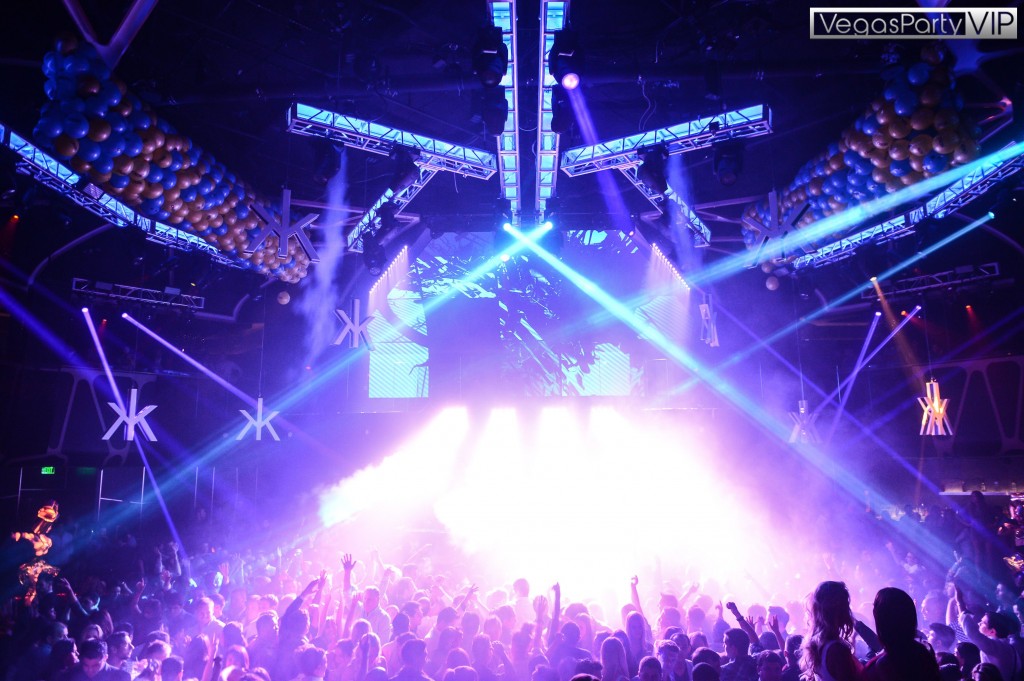 Hakkasan Group made a big splash 2 years ago when they opened the doors to this expensive and ambitious venture. This nightclub space was previously Studio 54 nightclub, but after a new vision & huge $100+ million dollar remodel has revived MGM as a nightlife player. Hakkasan made a name for itself as a Michelin- rated Cantonese fusion restaurant around the world in locations like Abu Dubai, New York, San Fran, Miami and others. And those standards are upheld at Hakkasan Nightclub.
Open Thursday thru Sunday, with the occasional special Tuesday performance. Hakkasan's décor is futuristic, mysterious, elegant and dark. This 5 level venue devotes the bottom 2 levels to the world class restaurant, while the upper 3 floors are devoted to the nightclub experience. 3 different nightclub rooms, including the Ling Ling Club, Pavilion & Main Room
The Ling Ling Club caters to hip hop & top 40 music. Smaller, but nicer than most other clubs Main Rooms. The Main Room and Pavilion room focus primarily on big name EDM DJ talent like Tiesto, Calvin Harris, Steve Aoki, Hardwell and many others. Many of the artist here have creative freedom with their DJ Sets, so you're sure to see something original and amazingly unforgettable.
Why it's #2:
This nightclub is the definitive contender for the #1 spot. With exclusive contracts with a majority of the top DJs in the world, Hakkasan has focused on bringing in popular EDM DJ talent so fans of the music will fill the club. Rumored to have spent an additional $100-150 million on DJ contracts for the first few years, Hakkasan is not messing around.
When they opened & signed the top DJs it left the rest of the Las Vegas nightclubs looking for new acts. Like the New York Yankees of yesteryear, everyone wants to play for Hakkasan. Everyone wants to join a winning team, DJs are no different. Tiesto & Calvin Harris have both signed multi-year exclusive residency contracts. If you're a fan of EDM music and want to see the top DJs perform live, Hakkasan is your spot. Hakkasan also grossed an estimated $100 – 103 million dollars in 2014, just shy of XS.
Focusing more on lighting & technology, this feels like the nightclub of the future. TRON meets Contemporary. LED walls, multi-colored lights, lasers, and perhaps the best sound system of any nightclub in Vegas. Confetti and Cryo-guns are additional weapons in the DJs entertainment arsenal. If George Lucas designed a nightclub, it would look something like this.
Pros & Cons:
Pros: Elite clientele, Top DJs in the world, most technologically advanced lighting & sound in Las Vegas, guaranteed to be busy any night, well-designed VIP booths. Celebs eat & party here.
Cons: Expensive cover (50/girl, 100+/guy on big nights), long GA lines, no outdoor element, lots of stairs to get to the club if you're general admission.
#3 – Omnia Nightclub (Caesar's Palace)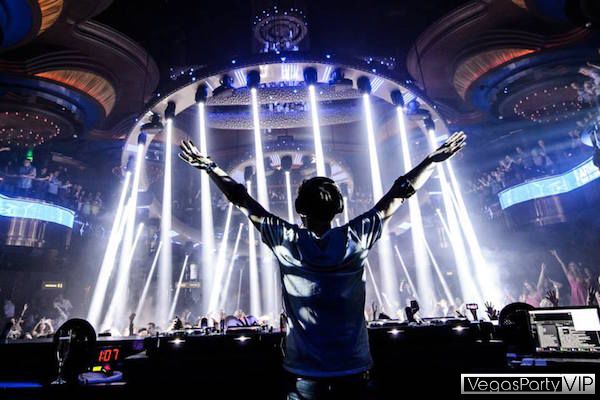 This was a tough choice for #3. Putting an unknown & unopened nightclub on a list of Top Las Vegas Nightclubs for 2015 was debated within our staff, colleges & social circles for some time. With so much anticipation and wonder surrounding this Caesar's Palace property, it had to make the list.
Previously PURE Nightclub, this venue received a huge 100+ million dollar makeover from the Hakkasan Group in an attempt to make Caesar's cool again, the same way they have helped revive MGM Grand. Centrally located on the Las Vegas Strip, PURE was one of the great Las Vegas nightclubs for 8 years. In the days when Mariah Carey, Dennis Rodman, Carmen Electra & Chuck Liddell were popular, this was the club they partied at. Times change, PURE closes, and now we wait for the new Omnia.
Opening March 13, 2015, Omnia Nightclub will surely be a hit. With multiple rooms, stunning Strip skyline views from the patio, and some of the same great DJ talent exclusive to Hakkasan, Omnia will follow in the bloodlines of greatness just like Hakkasan.
Rumored to comprise of 3 different room, with a unique experience in each, Omnia will cater to everyone. The 'Heart of Omnia' Lounge room will be open format music (hip-hop, top40 hits), while the Main Room & stunning patio will be primarily EDM music. More details to come.
Resigning Calvin Harris & Tiesto to a new deals, & acquiring even more world class DJs at the end of 2014, Hakkasan group is tipping the scales of Las Vegas nightlife in their favor. With an already impressive list of DJs, they've recently added top DJs like: Afrojack, Armin Van Buuren, Chuckie, Martin Garrix, Nicky Romero, Showtek, Krewella, Nervo, & Oliver Heldens.
Updates to come… stay tuned.
Why it's #3:
Based upon the early renderings, popularity, location & history of Caesar's Palace, the design, vision & impressive marketing of Hakkasan Group, & the incredible list of DJ talent set to perform, this club will be a BIG DEAL. Perhaps next year it will be higher up the list.
Pros & Cons:
Pros: Centrally located on The Strip at Caesar's Palace, World Class DJ talent, amazing views from the patio, & new new NEW!
Cons: Expensive, crowded (due to popularity), long lines, can be hard to get in.  We recommend VIP Hosted Entry or a VIP Table.
#4 – Marquee Nightclub (Cosmopolitan)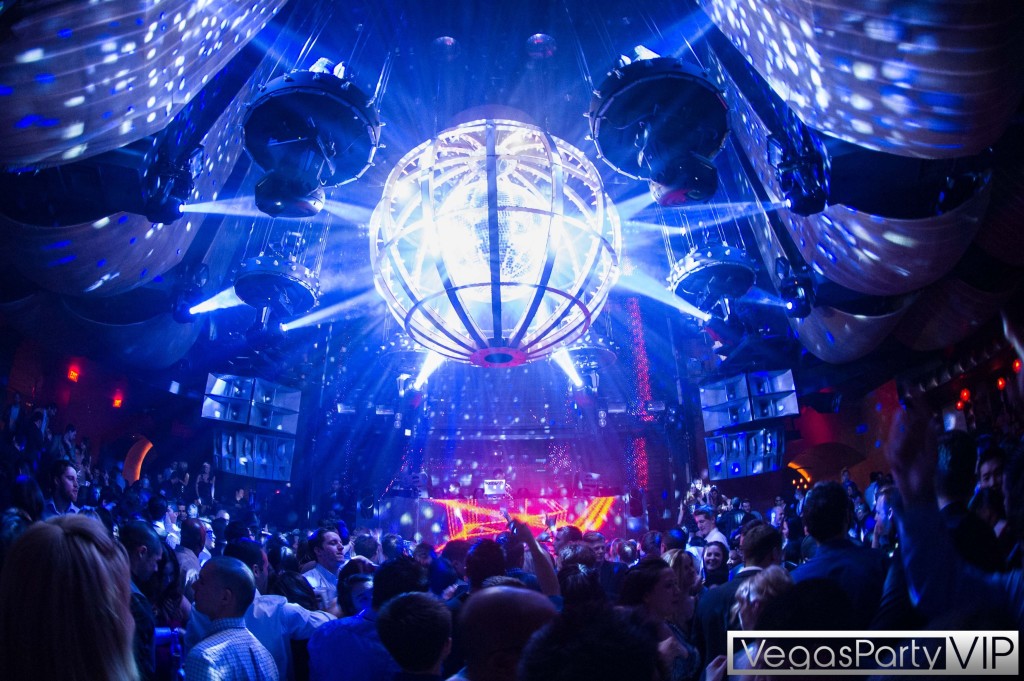 As one of the newer nightclubs in town, Marquee has had a good run the past few years. Located at the hip & sexy Cosmopolitan Hotel, Marquee nightclub consists of 60,000 square feet of party space, 3 different themed rooms (Main Room, Boom Box room, & Library), plus breathtaking Strip views from the Pool Deck/Patio. During the cooler winter months a huge glass dome is erected over the patio to allow for patio partying year around.
The Main Room and Patio usually have EDM DJs performing, with the occasional live performance (Bruno Mars, Jeremiah to name a few). Lasers, lights a state of the art sound system are all standard in the main room of this top Las Vegas nightclub. If EDM isn't your thing, head to the Boom Box room for some 'open format' music including hip-hop & top40 mashup hits.
Marquee patio & dome is also the location of Marquee Dayclub during the daytime of the warmer summer months.
Why it's #4: For most of the staff, this choice was purely based upon revenue & popularity. Grossing $80-85 million in 2014, Marquee Nightclub is #3 in the country in sales/revenue on our list of Top Las Vegas Nightclubs for 2015. That's a ton of cash…  It was hard to ignore the popularity & income of this hip venue. Marquee has lost a few of their top DJs to other Nightclubs (Kaskade to XS, Armin Van Buuren & Chuckie to Omnia) so we're slightly concerned with their Talent Lineup for 2015, but have added talented young DJ, Alesso, which will help. Marquee is still a top Las Vegas nightclub.
Pros & Cons:
Pros: Great patio views of the Las Vegas Strip, including the Dome during the winter months, located at the sexy Cosmopolitan hotel, variety of rooms/music types.
Cons: Long lines, somewhat crowded VIP Table areas, elevator or stairs to get into the club, feels like a million stairs leaving.
#5 – TAO Las Vegas (The Venetian)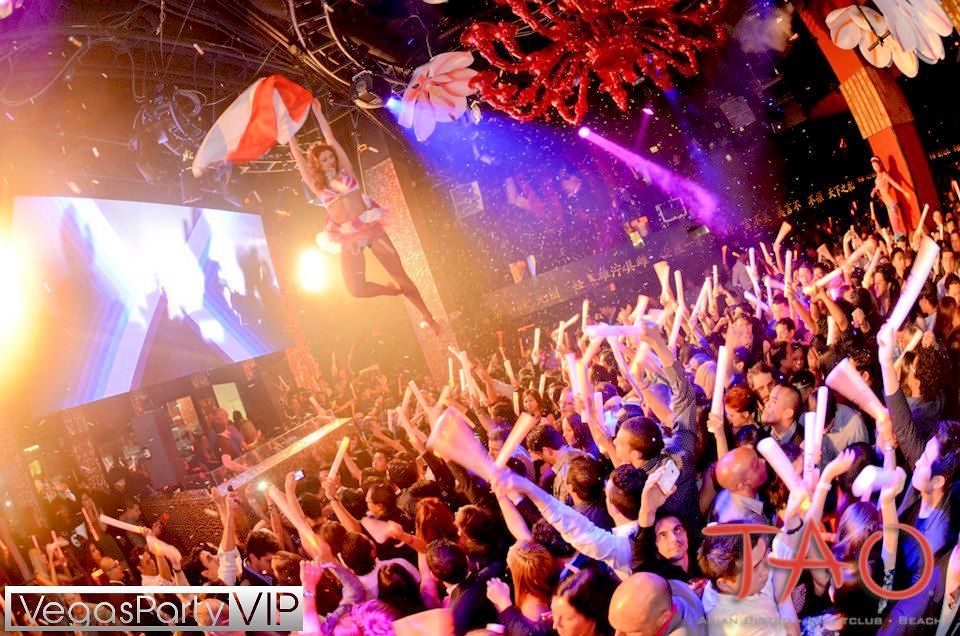 Tao is the old school, one of the OGs, the Originals. Located in the Venetian, TAO Nightclub has been on the top since it's opening in 2005. Before super-clubs like XS & Hakkasan, TAO nightclub was the place to go for many athletes & celebs when they come to Vegas. Coupled with an incredible Asian fusion restaurant, & TAO Beach during the day, this nightclub has it all and has for a while. Some of my very first nightclub experiences were at TAO nightclub.
Consisting of a total of 60,000 square feet of entertainment space, this long running venue knows how to do it right. Adored with Asian themed décor, this nightclub consists of 3 areas: Main room, Opium Room & Roof patio (summer month, TAO Beach by day). 4 full service bars ensure you can get drinks during busy nights. There is also a small balcony that overlooks the Las Vegas Strip if you need some air, or spot for Selfies.
Why it's #5: Money. Nostalgia. History. Again, this was a hard choice, but it came down to dollars. TAO nightclub made $50-55 million last year, which is hard to ignore. That's why is made the Top Las Vegas Nightclubs for 2015 list, but perhaps for the last year.
With its name brand recognition, amazing restaurant, & celebs like Kanye, Kim Kardashian, various other athletes are always dropping by to dine & party. They signed Snoop Dogg to create his own show/themed night (The Snoop-a-delic Cabaret), & the DoggFather himself even performed multiple sold out nights including Halloween and New Year's Eve. TAO nightclub has kept itself afloat for 10 years as many other clubs have come and gone. But like Marquee, we are concerned about their Talent Lineup for 2015.
Pros: Amazing restaurant / nightclub combo, Snoop Dogg, good open-format music (a blend of everything)
Cons: Lack of big DJs, doesn't have the popularity like prior years.
Note: Check out our Top Las Vegas Nightclubs for 2014 for last years top venues & descriptions.
Honorable Mention:
Surrender Nightclub (Encore) – #6 in US / $40-45 mil
Pros: Great venue, beautifully designed. Encore Beach Club during daytime (Pool Season)
Cons: Mostly outdoors, which can be tough in the cold & very hot months.
Hyde Bellagio (Bellagio) – #9 in US / $25-30 mil
Pros: Incredible views of the Bellagio Fountains & the Las Vegas Strip. XIV Parties (fun!).
Cons: Smaller venue. High bottle prices, & fewer VIP Tables.
LAVO Las Vegas (Palazzo) – #10 in US / $30-35 mil
Pros: Saturday LAVO Brunch (One of our favorite parties), great Italian food at the restaurant
Cons: Can be slower in the nightclub, mostly hotel guests.
Tryst Las Vegas (The Wynn) – #18 in US / $15-20 mil
Pros: Waterfall with lagoon, real trees. Warm, plush, sexy décor. Great open-format music, We have great VIP Table packages here.
Cons: Has slower nights in off-season months. Slightly smaller than most clubs.
Chateau Nightclub & Rooftop (The Paris) – #28 in US / $10-15 mil
Pros: Amazing Strip view from Patio & Rooftop, Rooftop is inside the arch of Eiffel Tower at Paris hotel. Great VIP Table options.
Cons: Main Room is designed slightly strange, line for elevator to Rooftop can be long. Has slower nights in off-season months. We have great VIP Table packages here.
THE LIGHT (Mandalay Bay) – Not Listed (no Data)
Pros: Infused with Cirque du Soleil performances, insane visuals, and transparent LED walls & LED screens everywhere.
Cons: Can hit capacity quickly (smaller venue), not much dance floor.
DRAI'S Nightclub & After-Hours (The Cromwell) – Not Listed (not open for 12 months, to be considered for Top100)
Pros: Amazing new venue, beautiful Strip & Bellagio Fountains views from the roof. Live music acts periodically like Nas, Nick Cannon, The Weekend and others. Drai's Beach Club during Pool Season.
Cons: Lesser known DJs, large venue can feel slightly empty on off season nights.
LiFE Nightclub (The SLS) – Not Listed (not open for 12 months, to be considered for Top100)
Pros: Decent DJ lineup, nice new technology & sound, Great LED screens.
Cons: Highest Tax/Grat Total of any club. Smaller venue in lesser known hotel.
We hope you enjoyed this list of Top Las Vegas Nightclubs for 2015. Please contact us for VIP Table Reservations & VIP Hosted Entry at ANY Las Vegas nightclub. See you in Vegas!